The central province of Quang Binh and the capital city of Hanoi co-organised a conference in Hanoi on March 25 to promote tourism connectivity.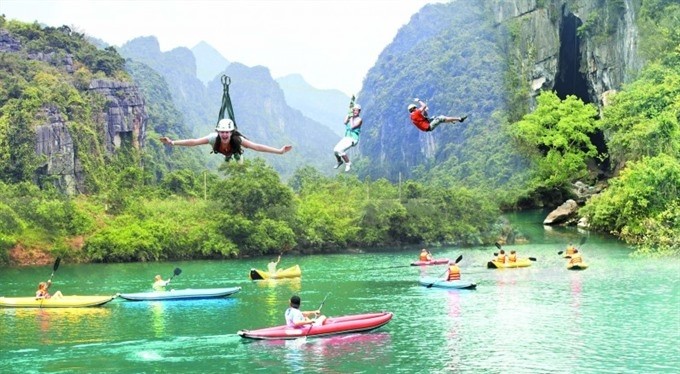 The central province of Quang Binh and the capital city of Hanoi co-organised a conference in Hanoi on March 25 to promote tourism connectivity. (Photo: SGGP)

The event provided an opportunity for Quang Binh to introduce its culture and strengths to draw more domestic and international visitors via Hanoi, Vice chairman of the provincial People's Committee Tran Tien Dung said.

The conference also enabled firms to seek partners, he added, calling on businesses and investors to attract more visitors to Quang Binh.  "Quang Binh sees tourism as its spearhead economic sector," Dung said.

"The province will concentrate all resources to complete building infrastructure, diversify products and improve the quality of services so that it becomes a top attractive destination with tight linkage with other tourism centres in the country," he said.

"In order to achieve that, Quang Binh needs the cooperation and participation from businesses and investors, especially those from Hanoi and other northern provinces, which contribute a large part of visitors to the central province."

The programme "Quang Binh in the heart of Hanoi" will be an opportunity for Hanoians to understand the nature, history, culture and people of Quang Binh Province and connect tourism companies to meet, trade and exchange products and visitors," said Ngo Van Quy, Vice Chairman of Hanoi People's Committee.

"The programme will also help draw investment from enterprises in Hanoi to explore and make the best of tourism potential in the central province.

"Hanoi authorities will continue to work with Quang Binh Province to promote the potentials and advantages in the capital and the central province, thus improving the two sides' socio-economic development, especially tourism."

New air routes between Dong Hoi and Cat Bi (Hai Phong), and Dong Hoi-Chiang Mai (Thailand) were introduced at the event.

A number of Memoranda of Understanding (MoU) were signed at the conference, including one on developing Quang Binh-Hanoi tourism cooperation for the 2017-20 period, and another inked between Quang Binh and Hanoi tourism associations, and Quang Binh Tourism Information and Promotion Centre and UNESCO Hanoi Travel Club.

Events were also held in Hanoi's Ly Thai To Park, re-enacting parts of Quang Binh, especially its famous caves, around the Sword Lake walking street.

Quang Binh boasts rich tourism resources. It is home to the UNESCO World Heritage site Phong Nha – Ke Bang National Park and the world's largest cave, Son Doong.

The province also has the longest coastline in Vietnam with beautiful beaches and special seafood dishes, and it was chosen as one of the filming sites for the movie "Kong: Skull Island".

It is also preserving valuable tangible and intangible cultural values, such as "ca tru" (ceremonial singing), and "ho khoan" (a genre of Vietnamese folk music in Le Thuy District).