The up-coming Mekong-Japan Tourism and Cultural Festival is aimed at highlighting the unique aspects of local culture to promote Mekong Delta tourism, affirmed Deputy Minister of Culture, Sports and Tourism Tran Chien Thang at a press briefing in Hanoi on Oct. 26.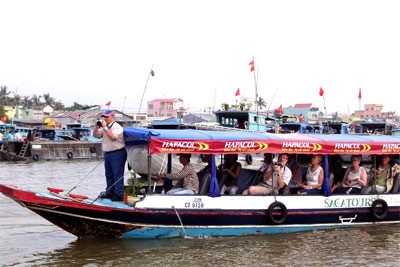 Foreign visitors tour Cai Rang Floating Market in Can Tho City, the host of the Mekong-Japan Tourism and Cultural Festival (Photo: H.Y.)
The festival is scheduled to be held in the Mekong Delta city of Can Tho on December 2-5, as part of the Mekong-Japan Exchange Year with the participation of Cambodia, Laos, Myanmar, Thailand, Vietnam and Japan.
The official further said that the program is expected to create a new vitality for the Mekong Delta region, which is the country's rice basket, but still has an underdeveloped economy, making tourism a top priority in the region's plan for the future.
He reaffirmed that the festival would provide a prime opportunity to promote tourism in the Mekong region and in Vietnam in general.
During the festival, a workshop underscoring the sustainable development of tourism in the Mekong Delta will be held to showcase its potential in terms of cultural and natural resources, the current state of infrastructure, human resources, and tourism products, as well as cooperation and development relating to Mekong-Japan tourism.
Culture ministers from participating countries will attend a discussion under the theme of " Mekong – a river connecting cultures" to link the region's cultural assets with attracting Japanese tourism to promote sustainable development and prosperity.
Performance troupes from the six participating countries will perform at the festival's opening ceremony. Numerous activities highlighting the unique traditional art and culture of Mekong sub-regional countries and Japan will take place during the four days of festivities.
Can Tho will also offer traditional boat racing, singing and gastronomy as well as local tours for visitors.
By the end of November, the Ministry of Culture, Sports and Tourism will hold an international press conference in Hanoi to introduce the festival to foreign guests.