A new tourist service supporting the "Earth Hour" campaign was presented at a seminar in Hanoi last week, to instill in tourists a need to contribute towards energy conservation.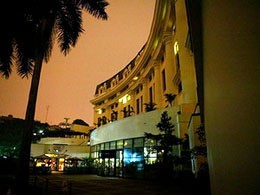 Hilton Hanoi Opera Hotel
Environmentalists hope that travel agents, hotels, restaurants and other such services will promote the new service to make tourist facilities more energy efficient.
As per the new service, hotels will offer romantic dinners for couples under glistening light using luminescent objects and for those visitors who enjoy thrill and adventure, there will be countryside dinners for people who can enjoy a meal in the outdoors under oil lit lamps and the natural moon light.
By way of entertainment, tourists can also watch traditional folk games and folk entertainment in hotels.
The National Oil Service Company of Vietnam is offering some activities to visitors in its hotels, such as traditional games, watching solar and lunar eclipses and tours to Phong Nha caves.
"Earth Hour" is an annual global event organized by the World Wildlife Fund and is held on the last Saturday of March in which all households and businesses are asked to turn off non-essential lights and other electrical appliances for one hour to raise awareness for the need to take action on climate change.