Phung Islet, an attractive destination for both local and foreign visitors, locates in the middle of Tien river with luxuriant trees. Visitors can reach the islet by vo lai, a small wooden boat equipped with engine, to enjoy the cool and airy space of the Mekong Delta's nature.

Visiting Phung Islet, visitors must drop in Dao Dua structure to see unique and mysterious masterpieces. The most attraction of Dao Dua is pillars carved with dragon pattern, expressing the wish for a warm and prosperous life and good weather, in the site of 1,500 square meters.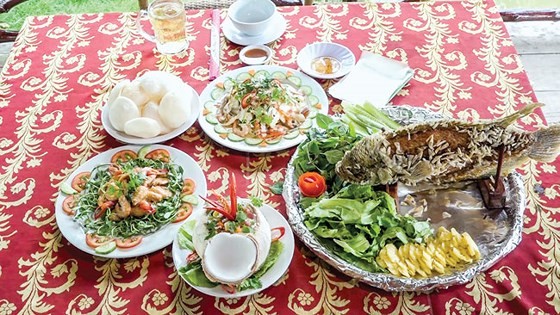 Attractive native food (Photo: SGGP)
Moving further inside the islet, visitors have a chance to learn about people in Ben Tre province, known as coconut land, at Coconut Museum made of coconut trunks. Coconut is associated with the life of Ben Tre residents from the war time to nowadays in various fields ranging from economics, culture to cuisine.
The museum displays images and objects about the life and culture of local people and lot of unique and subtle products totally made of coconut, for example, cups, teapots, pepper mill, comb, toothpick jar etc.
Handicraft products made from coconut trunks are subtle, skillful, beautiful and durable. Coming here, visitors should buy something as a present for their relatives.
Lot of visitors know and have enjoyed coconut candy without knowledge of how they are produced. In Phung Islet, they can witness phases of making the candy at local family factories.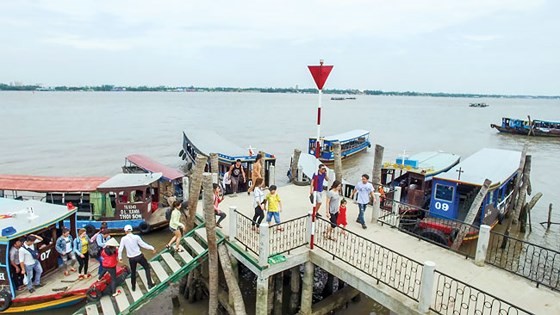 Visitors arrive in Phung Islet (Photo: SGGP)
Restaurants in the islet provide interesting menus of dishes. Most of dishes are popular, easy to eat and suitable with the appetite of both local and foreign visitors.
They comprise fried giant gourami rolled with rice paper, enjoyed with tamarind fish sauce; the dish made of the youngest part of the coconut tree spout, shrimp and meat severed with glutinous rice chupatty and tiny shrimp fried with coconut milk served with steamed rice in coconut.
Aside from that, visitors can play exciting games bringing nervous feeling and requiring bravery. Overcoming the challenges of the games such as riding a bike in small wooden bridge across the river, they are supposed to overcome themselves.
Putting aside worries of the daily life and work, let's experience and discover the peaceful space of Phung Islet to forget stress and weariness.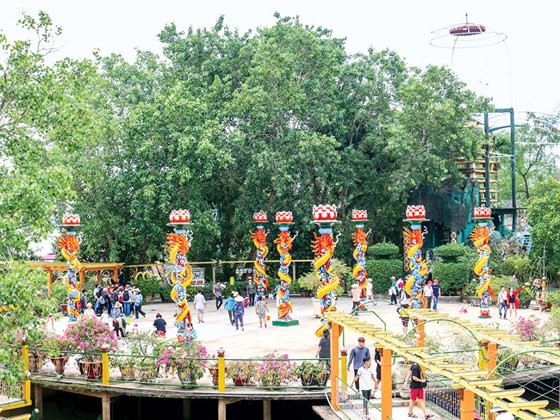 Dao Dua structure (Photo: SGGP)