The government has decided to pass a plan to make Phu Quoc island a centrally administered special economic zone by 2020. This will help to develop this 593 square-kilometer island ( the biggest island of Vietnam) of yet-fully-exploited tourism potential.
Besides, under a development plan for the period up to 2020, the province, situated 250 kilometers south of Ho Chi Minh City, will also upgrade the stretch of National Highway 80, and to build a coastal road south of HCMC, and build a Ha Tien – Rach Gia – Bac Lieu highway to aid development of the Rach Gia and Phu Quoc airports.
Kien Luong town and Ha Tien city, Thanh Hung from Giong Rieng town, and Soc Xoai from Hon Dat town will then merge with the province.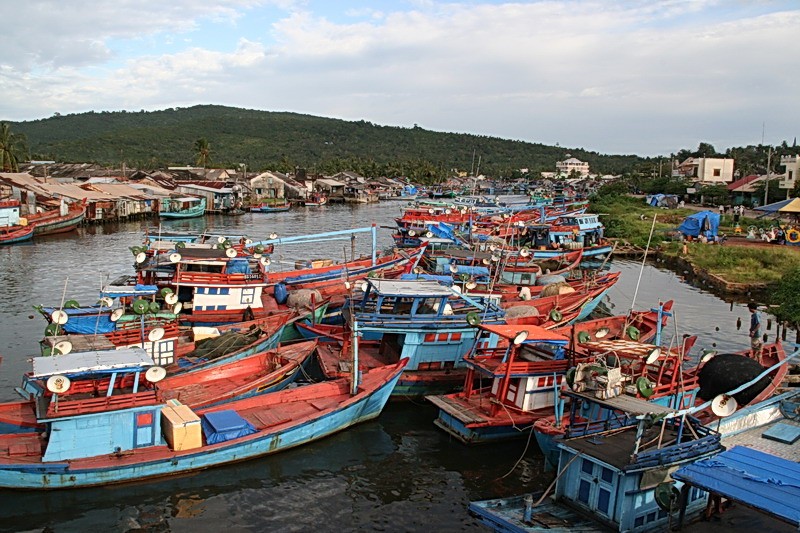 A fishermen village in Phu Quoc Island
Phú Quốc is the largest island in Vietnam in Kien Giang province. The district of Phú Quốc includes the island proper and 21 smaller islets. The district seat, Dương Đông, is located on the west coast, and is also the largest town on the island. The economy is centred around fishing, agriculture and a fast-growing tourism sector; Phú Quốc being one of the most popular tourist destinations of Vietnam.
Located in the Gulf of Siam, Phú Quốc island lies just off the Cambodian coast, 62 nautical miles (115 km; 71 mi) from Rạch Giá, 8.1 nautical miles (15.0 km; 9.3 mi) from Kampot province of Cambodia, and nearly 290 nautical miles (540 km; 330 mi) from Laem Chabang, Thailand. Roughly triangular in shape the island is 50 kilometres (31 mi) long north to south and 25 kilometres (16 mi) east to west in the north at its widest.
A mountainous ridge known as "99 Peaks" runs the length of Phú Quốc, with Chúa Mountain being the highest at 603 metres (1,978 ft).