Formerly, the house was owned by Mr. Tran Van Hoa, a village mandarin in Ha citadel, Cho Lon province where is Can Duoc district, Long An province now. The house has gone through six generations and the current owner is 70 years old Tran Thi Ngo, wife of Mr. Hoa's nephew.

Ms. Ngo said that her great grandfather Tran Van Hoa started building the house in 1898 and it was built in 1903. Two years after building the house, he invited 15 artisans from Hue ancient capital to carve it within three years. The front of the house is northwestward.
The house, roofed with jin-jang tiles, was built in Ruong House style, a popular type of housing in the former imperial capital of Hue using precious wood.
According to Ms. Ngo, the main altar space of the house worships her great grandfather, in the left is her grandfather worship place and in the right is her father.
Called one hundred pillar house, the house in fact has 120 pillars made from many types of wood includingAfzelia xylocarpa, ebony and teak.
Two pillars with a pair of vermillion in front of the worship space are crafted with gold plated words meaning constant high mountains standing for humankind's will towards noble things.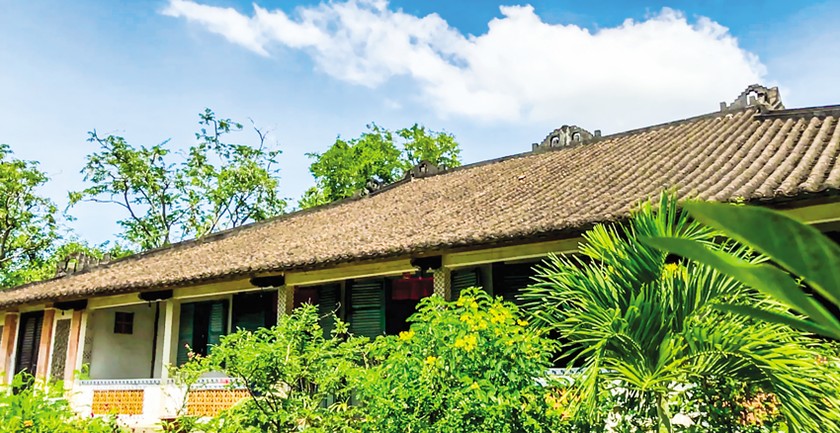 The front of the house (Photo: SGGP)
Talking about the way to preserve the 120 year old house, Ms. Ngo said that she often uses anti terminate chemical and regularly cleans up the house. To meticulously carved pillars and furniture, she uses small brushes to sweep dust away.
According to research papers, the one hundred pillar house is one of the Nguyen Dynasty's architecture works with clear marks of the style of citadel capital Hue. However it was designed by a southern dweller during the French domination so there were many changes in decoration.
Over one century, the interior of the house is still solid, other items such as bricks, tiles and outside parts have run downgraded.
The house considered the harmonious combination between central and southern architecture styles is a destination which visitors can not miss if they have been to Can Duoc district, Long An province.