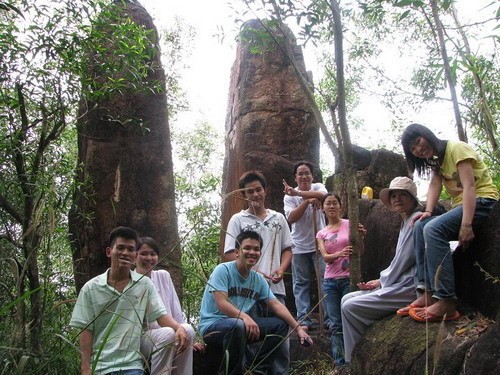 At Thi Vai Mountain, tourists can discover hundreds of pagodas
On the way from HCMC to Ba Ria-Vung Tau province, tourists will pass through Phu My town of the Tan Thanh District. This is home to pilgrims and tourists can discover hundreds of pagodas with various and unique architectural styles. Surprisingly, Van Hanh road, which is about 3.5km long, has over 200 pagodas along it. Local people and Buddhist priests report that the pagodas were built in around 1976. A few pagodas were moved there from Da Lat.
A long time ago, Van Hanh was a small hamlet with dozens of inhabitants. Gradually, one pagoda then two and three and dozens of pagodas with southern architecture styles were built up over the years.
Most pagodas on Van Hanh have wide fruit gardens where vegetables and fruits are grown all year.
Van Hanh links to Thi Vai Mountain, where many pagodas have been built up on the high hills. A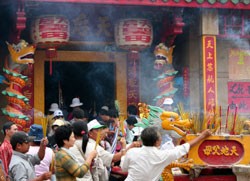 200 pagodas along Van Hanh Road attract pilgrims nationwide
nun says that King Gia Long named the mountain "Thi Vai" because he wanted to thank an old woman who helped him when he got lost here.
The tomb of that old woman is on the grounds of a small pagoda on Thi Vai Mountain.
Tourists can take motorbikes or cars along national road No.51 to Phu My town, Tan Thanh District of Ba Ria Vung Tau province. After traveling, 40km from Vung Tau city and 65 km from HCMC, tourists will pass through the Phu My industrial zone and then turn right to reach the Van Hanh hamlet.