As my niece Yogita was expecting her friend Anu to arrive from Singapore during the Tet holidays, she searched for the nearest place to take a break during Tet and finally settled on Mui Ne.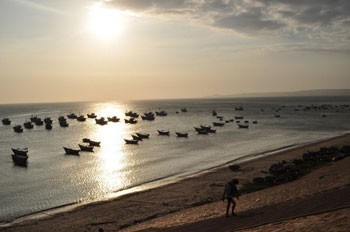 Fishing boats at sunset in Mui Ne (Photo: Abha)
The websites on Mui Ne had loads of offers, but every inquiry was returned with a polite refusal 'closed for Tet'. The hotels that looked inviting and tempting with beach and water sport activities were full for the entire Tet season. Finally we managed to find a wonderful website of the Sealink country club resort. We were able to get a large family suite for the three of us. The next step was how to get there. Again the website of Sinh café popped up and off we trotted to their office on De Tham Street and booked a comfortable car along with a Vietnamese guide.
Next day at 5am we left for Mui Ne and made the journey there in less than 5 hours. We were told that it normally takes less time but because of the Tet holiday season there was excessive traffic heading out of HCMC.
The Sealinks hotel came as a delightful surprise. Lovely laid out gardens, open spaces, three large pools, a golf course and cheerful rooms. The staff was warm and welcoming and as soon as we had checked into our suite we headed straight to the dining room for a well laid out buffet lunch. Since I am a vegetarian I am constantly worried if I would get anything to eat. Knowing Mui Ne to be a beach resort I was warned in HCMC by my colleagues that I would have to turn into a fishetarian to survive there!
However, the spread was so well planned that it could have been laid out for vegetarians as well. The charming stewardess Ms Vung, still added an extra delicious pasta dish with broccoli especially for me even though I found the buffet lunch more than sufficient.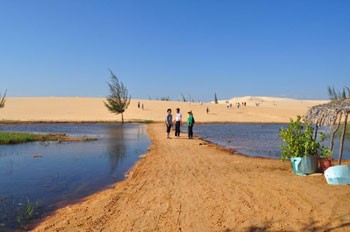 On the white sand dunes of Mui Ne
We headed to the white dunes after lunch and sand dune gliding which was fun. We stopped briefly on the way to see the ancient Cham temples. Later in the evening we strolled along the very happening Nguyen Dinh Chieu Street, browsing at shops and taking in the mood of the holiday crowd. Of course, since we had come to a beach resort we wanted to walk on a beach! So we asked our guide to drive us to a beach. He decided to take us to a beach which was full of boats of fishermen getting ready to take their boats to sea. We were able to take some stunning pictures of the boats and the setting sun. We walked along the beach which we found was full of sea shells that we could not avoid walking on them. We even collected some to bring back home. As we were walking on the beach we saw a charming Vietnamese woman making hot Banh Khot. That was such an irresistible sight that we had to stop in her little shop and eat some. I even ate some with fish sauce! They were so delicious, I forgot I was a vegetarian!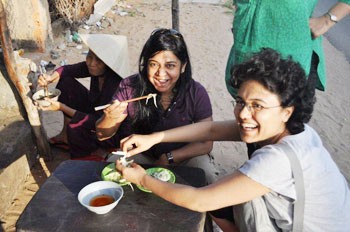 Enjoying Banh Khot (Photo: Abha)
We stopped at an Indian restaurant for dinner and at 10.30 at night could not refuse the temptation of a foot massage. The street was so alive well into mid night!
The next morning we all relaxed in the lovely waters of the hotel pool, had a sumptuous breakfast laid out in the banquet hall of the hotel and soon checked out of the hotel as we had planned a visit to the Takou Mountain before retuning to HCMC. We went to the mountain by cable car which was quite an adventure and as the Buddha statue on the top of the mountain is further away we had to walk some distance. It was 4 in the evening by the time we reached the cable car post for our return trip down the hill. Much to our dismay there was a crowd of about 200 people already waiting in queue for their turn. That would have been quite a wait but the local police was so helpful, they saw to it that the young and boisterous crowd did not break the line and we finally reached the base by 5pm. Knowing how late it was getting we headed straight back to HCMC. It was a Saturday evening and fortunately the roads were clear and our return journey only took us 4