More than 500,000 visitors flocked to the Ha Long Tourism Festival 2010, which was held from April 29-May 2 in the World Heritage site of Ha Long Bay.
On this occasion, hotels and hostels in Ha Long City run at full capacity.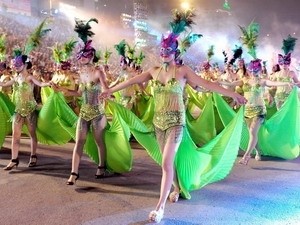 Carnival during the festival (Photo: Vietnam News Agency)
During the four day festival, nearly 50,000 tourists visited Ha Long Bay, five times over the normal day. On May 1 alone, 16,000 visitors toured around the bay.
This year's Ha Long Tourism Festival took the theme of Hanoi to celebrate the 1,000 birthday of the capital city.
Highlight of the festival was a street carnival when symbolic images of Hanoi were paraded alongside thousands of professional and amateur artists from both inside and outside the country.
The festival, was held at nigh for the first time, including a series of diverse activities, including fireworks, boat races, a conference of the world's most beautiful bays, an international tourism-trade fair, exhibitions, concerts and a beauty pageant.
Quang Ninh's tourism sector expects to welcome 5.2 million visitors, including 2.5 million foreigners this year.