The Ministry of Transport (MoT) is determined to tighten the enforcement of traffic violations as Traffic Safety Month and Hanoi's millennium celebrations approach.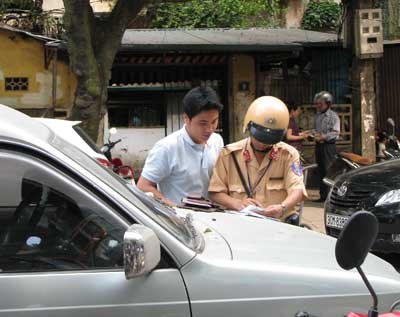 A traffic police officer fines a driver for violating the traffic law in Vinh City.
The ministry released data showing a decrease in both the number of accidents as well as the numbers of deaths and injuries in the first six months of the year.
It reported 6,559 accidents, 18 less than the same period last year, while traffic fatalities totalled 5,610, a 4 percent drop.
However, the department said illegal motorbike racing and other violations causing traffic congestion and accidents has worsened in Hanoi and HCM City.
In the six-month period, the Traffic Police Department and the municipal security authorities stopped and punished 455,000 violators with total fines of VND70 billion (US$3.8 million).
Minister of Transport Ho Nghia Dung asked the National Traffic Safety Committee in collaboration with Traffic Safety Department to establish interdisciplinary delegations in localities.
Nguyen Nhat Huy, head of the Hanoi municipal Transport Department's Urban Management Office said they had been rushing to implement solutions to ensure traffic safety during the one-month long campaign planned for next month, ahead of the anniversary.
"We will strictly punish those caught speeding, motorbike racing, drink driving and driving without helmets," Mr. Huy said.
He said authorities will review parking sites on pavements to abolish illegal parking that caused traffic jams.
In the coming time, the department will define streets forbidden from parking and invest in some parking sites in Tran Nhat Duat and Tran Quang Khai streets.
He added that it will also strengthen inspections of taxis, buses and trucks in the capital and stop their operation if they do not meet traffic safety requirements.
"We will construct traffic control posts at key traffic sites in the city which have policemen on duty 24 hours a day," he said.
He said camera systems will also be installed to supervise traffic at key routes. The department wants to ensure smooth traffic flows along notoriously bad routes, including Nguyen Trai-Tay Son-Nguyen Luong Bang-Ton Duc Thang, Giai Phong-Le Duan, Le Van Luong-Lang Ha-Giang Vo, Cau Giay-Kim Ma-Nguyen Thai Hoc.
To ease traffic congestion on belt roads, the department would segregate lanes.
Parking sites would also be arranged at Ly Thai To street, Ba Dinh Square and My Dinh National Stadium which will all host activities celebrating the anniversary.
"Bus services will be improved and special routes will operate for tourists during the event," he said.