The Support Committee for Ha Long Bay, the Ministry of Information and Communications, and the Ministry of Culture, Sport and Tourism have asked the Web sites that have pirated New7wonders' logo, photos and the content of the NewOpenWorld Web site to remove illegal content promptly and put Ha Long Bay on the list again, said Mr. Ngo Hung, chief of the Ha Long Bay Authority.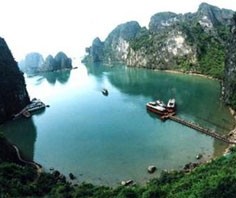 Ha Long Bay
In fact, the "infringing" Web sites, including that of the People's Committee of Quang Ninh, EVN Telecom, Viet Nam Television, Tuoi Tre and Thanh Nien newspapers, have persuaded millions of people to vote for Ha Long Bay and helped the famous rock formation achieve first ranked on the list of sites. Their activity was motivated by a love for the heritage of the country and the hope of introducing Vietnamese images to the world.
Because of inadequate knowledge, these Web sites unintentionally caused the removal of Ha Long Bay from the poll. This is because they did not understand the regulations which were agreed to by the NewOpenWorld and the Support Committee for Ha Long Bay.
According to the Support Committee for Ha Long Bay, a letter from NewOpenWorld said that the removal was "temporary" until the problem is solved. The committee also sent a dispatch to the NewOpenWorld organization committing itself to quickly solve the violations and enforcing technical solutions to prevent piracy so that Ha Long Bay could return to the selection list as soon as possible.
The removal means that millions of votes collected by these Web sites since the beginning will be invalidated. All the efforts that have been made have gone to waste.
Ha Long Bay was removed from the list of candidates for the world's seven natural wonders poll at www.new7wonders.com after Phong Nha-Ke Bang National Park and Mount Fansipan were removed a few days earlier.
When we take part in any international competition, we should learn the regulations to avoid the troubles like this, stressed Mr.Tran Chien Thang, Deputy Minister of Culture, Sport and Tourism.

Related article:
Ha Long Bay removed from world wonders poll, VN has no candidate