The recent 'Lang Co Festival 2011' from July 9-10 this year, was a great opportunity for the region to promote its "World's Most Beautiful Bay" to local and foreign investors and tourists.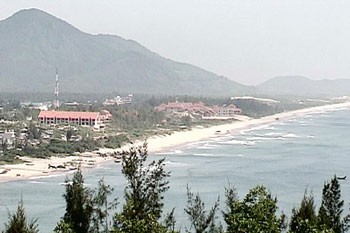 Lang Co, "World's Most Beautiful Bay". (Photo:Sggp)
Lang Co beach, 30 kilometers north of Hue City, is a peaceful fishing village famous for its spectacular natural landscapes, surrounded by mountains and the boundless blue sea with waves playing on its fine sands. Between the mountains and the sea lies the mysterious Lap An lagoon, home to flocks of white storks that return to their nests every evening.
Although the central region experiences the country's hottest days in summer, average temperatures in Lang Co hover between 220 and 250 Celsius. This is probably why the French colonial rulers chose to make this their vacation destination.
Lang Co was declared the 'World's Most Beautiful Bay' in 2009. The site lies along the "Central Heritage Road" route which also includes Phong Nha cave, Hue ancient capital city, Hoi An ancient town and My Son sanctuary. Lang Co is also located on the East West Economic Corridor that has vast potential to grow as a tourist destination.
Lang Co Festival 2011 celebrated the rich cultural values and exotic landscapes of Lang Co through various programs which were also part of 'National Tourism Year 2012' in Thua Thien- Hue Province.
Lang Co Festival was a good opportunity for the region to promote its tourist potential. There are 14 ongoing projects of resorts and hotels complexes, golf courses and eco-tourist areas that have been submitted to local authorities for approval.
Currently Lang Co has around 44 hotels and resorts with a total of 600 guest rooms that are usually full on national holidays.
During the two-day festival, domestic and international visitors had an opportunity to take part in various activities, such as a cuisine fair, traditional boat racing, football and volleyball games and  a fishermen festival for seafarers.