Jetstar has announced the low-cost airline would extend its low fares offering to Vietnam with a new four-time weekly service between Hanoi and Singapore, starting on December 15, 2011.
Jetstar Group CEO Mr Bruce Buchanan and Jetstar Asia chief executive Ms Chong Phit Lian announced the new service in Hanoi July 14.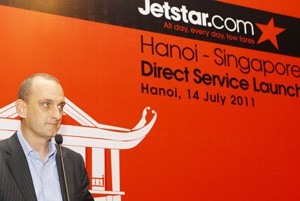 Jetstar Group chief executive Bruce Buchanan announces Jetstar Asia's Hanoi-Singapore route on July 14, 2011 in Hanoi (Photo: Tran Chuyen)
The Group CEO said the new flights would be subject to Vietnam's regulatory approval.
In addition, Jetstar will also add a daily Ho Chi Minh City-Singapore service from August 18 to expand its frequency to three times daily between the two cities.
In total, the new services represent a boost of 78 per cent in the low-cost carrier's capacity between Singapore and Vietnam. This means the airline is set to offer more than 468,000 seats between the two destinations by the end of the year, according to Mr Buchanan.
He said the new services would appeal to both holiday-makers and business travellers keen to access alternative low fares between the two countries.

"Through Singapore, customers will be able to connect to 28 destinations in Asia Pacific," he added.
With the new services and increased frequencies, Jetstar will operate 50 flights per week between Singapore and Vietnam.

Mr Buchanan said, "The services will complement and build on the domestic flights already operated by Jetstar Pacific within Vietnam.
"This year, we also intend to extend our lead as the largest low-cost carrier in Singapore."
Jetstar Asia CEO Ms Chong said that the new services would provide Asia Pacific passengers with better access to the Jetstar network, allowing them to tap more easily into the carrier's Singapore hub.
The Jetstar Group includes Jetstar Airways in Australia, Jetstar Airways in New Zealand, Jetstar Asia in Singapore, Jetstar Pacific in Vietnam, and Express Ground Handling.