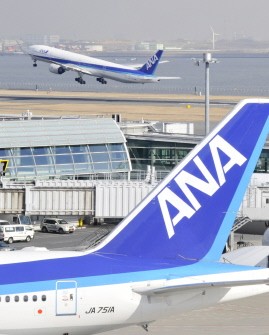 (AFP files) All Nippon Airways jetliner takes off from Tokyo's Haneda Airport
All Nippon Airways (ANA) has started its daily service between Tokyo and Ho Chi Minh City in Vietnam as the Japanese carrier on Sunday increased the number of flights to seven per week from five.
While much of the world has been dealing with hard economic times, the growth of the Vietnamese economy during the same time has been nothing short of astonishing, ANA said in an announcement dated Mar. 21.
The carrier said it had predicted that not only the flow of passengers from Japan and the United States to Vietnam would increase but that the amount of cargo flowing into Vietnam from these countries would increase as well.
"We therefore decided to increase the number of flights along this route."
In 2001, ANA launched its direct Ho Chi Minh City-Tokyo route with two weekly flights. The frequency was then increased to five and now seven.
ANA said in a statement issued Jan. 27 this year in Tokyo that it would promote its international flights as the "pillar" of its growth in fiscal 2010 by capitalizing on the "biggest business opportunity'" to be created by the expansion of two core airports in the Tokyo metropolitan area.
Looking ahead, ANA said in the statement, "The environment remains challenging, and the airline sector continues to face difficult times."
On Mar. 19, ANA warned in another statement of a deeper net loss for the year to March but vowed to soon surpass its ailing rival Japan Airlines to become Asia's largest airline.
ANA said its net loss would more than double to 65 billion yen (719 million dollars) from its earlier estimate of 28 billion yen for the financial year, due to weak demand for both its domestic and international flights.
The company also downgraded its revenue forecast for the year to 1.22 trillion yen from the 1.26 trillion yen projected earlier and its operating loss to 61 billion yen from 20 billion yen.
"Recovery was weaker than expected while competition among our rivals was more severe than we had originally thought" both at home and overseas, ANA said in the statement.
"ANA will build up our growth on a more global stage to reach our goal of becoming number one in Asia," the company said.