125 Japanese cherry trees donated by the Himeji Flower Auction Co., Ltd of Japan were planted in Da Lat City's Flower Park.

The event aims to mark the 125th founding anniversary of Da Lat city and the 45th anniversary of Vietnam-Japan diplomatic ties.
Director of the Himeji Flower Auction Co., Ltd, Eiichi Shibayama said the company had working sessions with Da Lat's government 3 years ago to choose the type of cherry blossom tree which is suitable for the weather conditions in the resort town.
Cherry trees in the area are expected to become a tourist attraction drawing a large number of visitors to admire the beautiful cherry blossoms.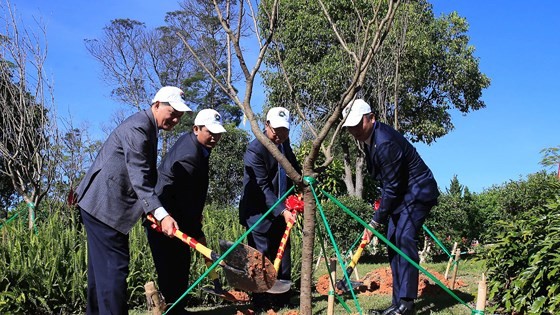 Da Lat's leaders and Himeji's representatives attend the Japanese cherry tree planting ceremony.