The annual Vietnamese national tourism event, International Travel Expo, is set to launch from Sep 30 to Oct 2 in Ho Chi Minh City, aimed to speed up the tourism of three countries, including the host Vietnam and two others as Cambodia and Lao.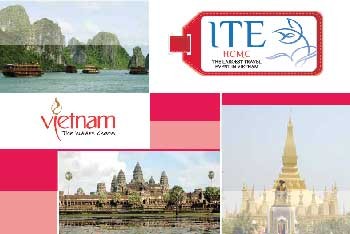 Main poster of ITE 2010 (Photo: Courtesy of ITE)
On its sixth comeback, the ITE 2010 is confirmed to take place at the district 7's Saigon Exhibition and Convention Center with the participation of 155 buyers from 35 countries and 170 sellers from three operating countries. In addition, this year exhibition also welcomes Thailand and Myanmar with their showcase of unique tourism's beauty.    
The 2010 expo remains its concept: "Three countries One Destination" 
As host country, Vietnam will have ten official representatives as tourism developing offices from local provinces and cities, including An Giang, Binh Thuan, Can Tho, Dong Nai, Hoi An, Khanh Hoa, Lam Dong, Quang Ninh, Tien Giang, and Vung Tau. 
The organizer also explained reason of venue change this year, as the Ministry already chose the event as three of biggest national event in 2010 and then the organizer needed to find bigger place to attract more buyers and sellers. As proof to this explanation, the organizer emphasized a 47-percent increase of buyers and 30-percent increase in general, in comparison with last year.  
There is no wonder that the bigger event needs bigger venue as the 4,500-square-meter SECC. 
As usual, the event has selected a beauty to represent its every appearance. This year, the selector is the second runner-up of the Miss Vietnam Global 2010, Nguyen Ngoc Kieu Khanh. She will work her job as Miss ITE 2010 during eight days from Sep 28. 
Some highlighted activities are ASEAN Tourism Investment Forum (9am to 5pm, Sep 29 at SECC) featuring discussions about cooperative investment policies; and Conference of four Tourism Ministers from four countries Vietnam, Laos, Cambodia and Myanmar (10.30am to 12pm, Sep 30 at SECC) 
Other cultural activities showcasing cultural beauty of some countries will also run up together, including Amazing Thailand (12pm, Sep 30 at SECC), Vietnam Night (5.30 pm, Sep 30 at Rex Hotel), and Cambodian Night (6.30pm, Oct 1 at Caravelle Hotel)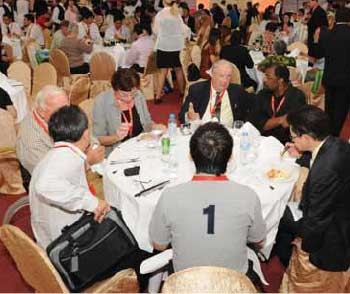 Buyers met sellers at ITE 2009 (Photo: Courtesy of ITE)
Among promotions that sellers will bring to the expo, the promotion by Vietnam Airline is the most-anticipated one. Besides the huge discount of 85 percents applied to all routes by the airline, VNA also plans to introduce some new European tour packages with impressive prices and destinations for the Christmas and New Year vacations. 
A very surprising adjustment to this year event is the big chance for the small to average sellers to join the show. Despite of paying fully as big sellers, the small companies can pay only VND15 million (US$750), about one-third of the full fee, to enjoy one smaller display area but full seller rights.
Two first opening days, Sep 30 to Oct 1, are for trade visitors. Daily visiting time is from 9am to 5pm. General visitors can take free tour at the expo from 1pm to 5pm Oct 1 and from 9am to 5pm Oct 2. 
The sixth International Travel Expo is co-held by Vietnam National Administration of Tourism, HCMC Department of Culture, Sports and Tourism, Vietnam Trade Fair & Advertising Jsc. and IIR Exhibitions Pte. Ltd.
The event is mainly supported by Vietnam Ministry of Culture, Sports and Tourism and HCMC People's Committee; and co-supported by Cambodia's Ministry of Tourism and Lao National Tourism Administration.