Vietnam, Laos, and Cambodia have agreed that a common visa to enter the three countries is an important goal in future.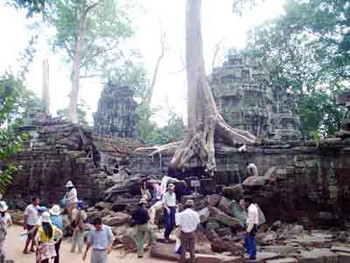 This file photo shows Vietnamese tourists visit Angkor in Cambodia. (Photo: Van Huyen)
It followed discussions they held on their "three countries – one destination" strategy at a conference on tourism investment in the Indochina region organized in Ho Chi Minh City on September 30.
In last three years, they have cooperated step by step achieve the goal and got some achievements.
They also discussed a strategy for overland tourism between the three countries.
So Mara, Minister of State of Cambodia's Ministry of Tourism, said that daily 100 buses carry tourists between Cambodia and Vietnam on average, and 40 between Cambodia and Laos.
From second position in 2008, Vietnam would climb to top spot in the number of tourists it sends to Cambodia this year, he said.
But the region has yet to develop a cooperation framework to offer tour that take in all three countries, he said.
Soukaseum Bodhisane, vice chairman of the Laos National Tourism Administration, said a lack of quality human resources is the biggest hurdle to tourism cooperation.
To persuade visitors to tour all three countries, they should issue a common visa, he said.
Vehicles to pass through Vietnam-Cambodia border gates

Vietnam and Cambodia held a ceremony on September 30 to mark unrestricted passage of vehicles at certain points on their border.

They include the Moc Bai border gate in the southern province of Tay Ninh and Xamat in Tay Ninh.

In October the two countries will add Tinh Bien in An Giang Province and Xa Xia or Ha Tien in Kien Giang.
 

Prospects of Vietnam tourism

At the conference, investors said Vietnam has a big advantage in sea-related tourism and would compete with countries like Indonesia and Thailand.
Consultancy PricewaterhouseCoopers has predicted that Vietnam will become a big player in the entertainment and amusement industries in the next five years with a market worth US$2.3 billion by 2013, attracting international tourists.
But Nguyen Xuan Trung, deputy head of the Foreign Investment Department, said foreign investment in the tourism sector is only $20 billion out of an overall FDI figure of $170 billion.