At the end of the three day long weekend holiday, thousands of returning holidaymakers streaming back to Ho Chi Minh City and Hanoi caused huge traffic jams at entry roads to the two cities on Monday afternoon.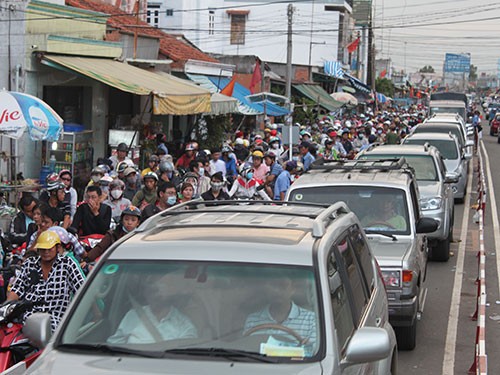 Dozens of vehicles wait for Cat Lai Ferry to return to HCMC on September 3 (Photo: nld)
In HCMC, a traffic jam stretched upto one kilometer in front of the Suoi Tien Cultural Tourist Park on the Hanoi Highway from 4pm onwards.
A similar congestion took place in front of the Mien Dong Bus Station on Dinh Bo Linh Street where passenger buses had to wait hours to enter the station.
Heavy traffic was also seen at Cat Lai Ferry, which connects District 2 in HCMC with Nhon Trach District in Dong Nai Province; and Binh Khanh Ferry, which links Nha Be and Can Gio Districts in HCMC.
Tran Minh Thanh, director of the Cat Lai Ferry, said that the number of passengers in the morning were as normal, but increased by the   afternoon.
A representative of Binh Khanh Ferry said that the number of passengers had doubled and on September 3 alone, the ferry received about 35,000 passengers.
In Hanoi, people from neighboring provinces also streamed back to the capital city on September 3, causing traffic jams at most of the entry roads.
Traffic jams lasted for hours on Highway 1A. Vehicles had to move inch by inch along a 10km stretch on Phap Van-Cau Gie road from 5pm on, while traffic on Ngu Hiep-Phap Van Crossroad was equally congested until 7pm.
 
The situation was as chaotic on Giai Phong Street, which is near Giap Bat Bus Station where tens of coaches ran behind schedule. Several coaches impatiently dropped passengers off outside the station, making for more chaos.
Hanoi Transport Corporation had supplemented hundreds of extra bus trips, but still failed to meet the increased demand.