Too many hydropower projects, poor environmental impact assessments of their dams, and overexploitation of sand are haunting Hoi An City and surrounding areas.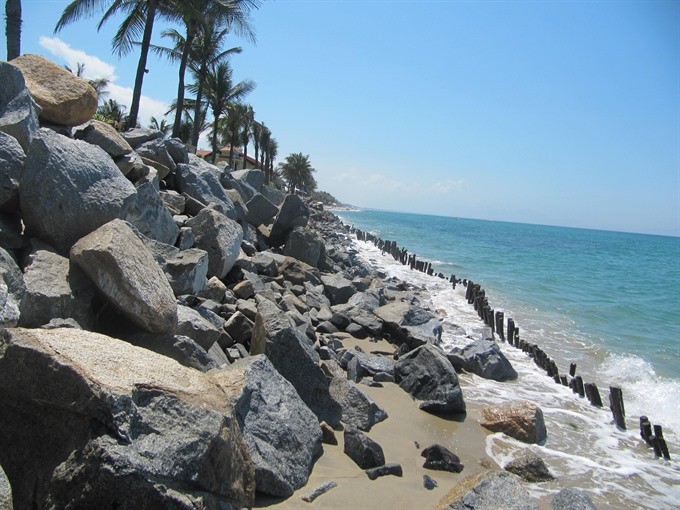 Rocks on the Cua Đai beach have been used to protect a local resort.
The above-mentioned factors, combined with poor management by local officials, have caused and worsened serious land erosion in the Vu Gia-Thu Bon River Basin, experts, researchers and officials said a meeting on Thursday.
The meeting was attended by staff of the International Union for Conservation of Nature (IUCN), Man and Biosphere, UNESCO, and Cham Island Managing board.
They stressed the importance of natural sandbanks and ensuring sustainable development of Hoi An City.
The 32km Vu Gia-Thu Bon River basin has seen serious erosion due to the change of flows from the riverhead, washing away large tracts of land on both banks for a 500m stretch.
The latest report on the situation shows annual erosion has been swallowing between 2m-10m of land in four communes of Hoi An City, while the river itself has moved 140m southeast from its position 40 years ago.
Chu Manh Trinh, a team leader of the Cham Islands Marine Protected Area, said businesses had been exploiting a huge amount of sand in the river basin, and big hotels and resorts were being constructed on the sandbanks.
"We carried out field trips along the river and found numerous boats docked to mine sand. They are like "sharks" swallowing lucrative 'meat'. Hundreds of tonnes of sand are dredged for construction every day," Trinh said.
"We even discovered a big pipe system installed under the sandbanks to dig for sand. Some sandbanks have completely collapsed, leaving a channel in the middle," he said.
Trinh said a huge resort, which is under construction on the Hen sandbank in the river basin, could destroy the river basin area.
Bui Thi Thu Hien of the IUCN said rapid development of hydropower plants on the river negatively impacted the sandbanks and the livelihood of millions in the basin.
"Many hydropower plants in Quang Nam Province were built without any consultation with or feedback from neighbouring provinces and downstream areas, while investors and management agencies neglected to draw up detailed flood control plans," Hien said.
She said experts with the Japanese International Co-operation Agency (JICA) had revealed that environment impact assessments were not carefully done before building hydropower plants and other structures.
For instance, construction of the Đak Mi 4 hydro-power plant in Quảng Nam Province caused a clean water deficit during every dry season in Da Nang City.
She said a Quang Nam-Đà Nang joint committee on integrated management of the river basin was established, but separate operations by Quang Nam and Da Nang resulted in poor water management and worsening erosion.
At Thursday's meeting, Da Nang  and Quang Nam administrations okayed a joint-management agreement on the river basin and coastline.
According to Tran Thi Hong Thuy, director of Cham Island Maritime Protection Centre, the river basin belongs to the Cham Island-Hoi An World Biosphere Reserve of over 33,000ha.
She said human activities and poor control at the Vu Gia-Thu Bon riverhead had badly affected the ecology of the area recognised as a World Biosphere Reserve in 2009.
"A terraced hydropower plant system on the river, illegal exploitation of sand, ore mining and overuse of chemicals by industrial parks, factories and households have polluted the river, threatening the marine ecology system," Thuy said.
"Increasing construction of resorts and hotels on the river banks and sandbanks – included in the buffer and core zones of the World Biosphere Reserve are – will lead to extinction of marine creatures, coral reefs and seaweed around Cham Island," she warned.
Nguyen Su, former Party secretary of Hoi An City, said the destruction of sandbanks in the river threatened the sustainable development of Hoi An – a UNESCO-recognised World Heritage site, as it targets to become the nation's first eco-city.
Su also protested the "reinforcement" of sandbanks and riverbanks by concrete buildings. He warned that without "tender management" of the river basin, Hoi An City and the Cham Island World Biosphere Reserve will be badly damaged.
According to Nguyen Chu Hoi, a researcher of environment and coastal resources at the National University, said an integrated watershed and coastal management approach 'from ridge to reef' was needed in the Vu Gia-Thu Bon river basin.
He said the development of irrigation projects and hydropower plants had limited water flow from the river basin, causing serious erosion of beaches in Hoi An City.
He said a vast stretch of the Cua Dai Beach near Hoi An had gradually disappeared over the last 10 years, and erosion on the river banks of Thu Bon was threatening the very existence of the heritage city.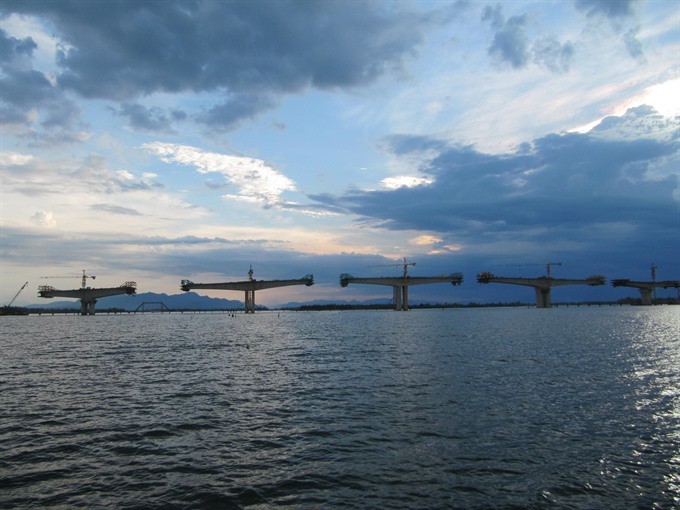 A bridge over the Thu Bon River. A profusion of constructions in the Vu Gia-Thu Bon River has seriously eroded its banks and altered its flow.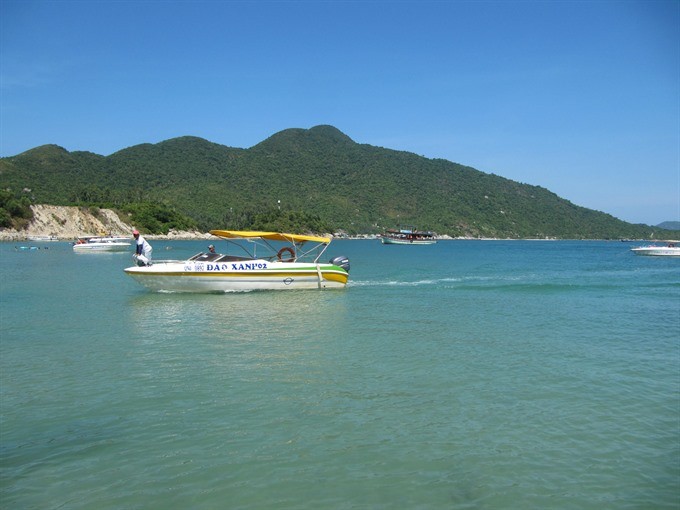 Cham Island off the coast of Hội An City is part of a World Biosphere site. Poor management of the Vu Gia-Thu Bon River has damaged the site and poses a serious threat to Hoi An City. (VNS Photos)