The Hoan My Tourist Company is experiencing a rapid increase of tours to Brazil for the World Cup.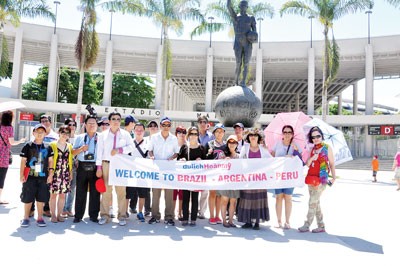 Hoan My's tourists were in Maracana Stadium (Rio de Janeiro, Brazil) shot in 2013
"A few months ago, we spent a month in some countries such as Chile, Panama, Colombia, Brazil, Argentina and Peru to survey the cost during the World Cup season," said Hoan My Manager.
Tourists visiting Brazil will be greeting by Vietnamese-Brazilian tour guides for easier communication. The company brought 26 tourists to Brazil in July 2013 with positive reviews.
"We will send the list of booked tourists to FIFA on April 1 and tourists booked after will pay additional fees," according to the company.
FIFA announced winners in a lottery draw will receive discounted ticket prices of US $90-140. Each person is allowed to buy a maximum of four tickets. Original ticket prices range from US$290-1,500.