An inner waterway tourism route along Nhieu Loc-Thi Nghe Canal in Ho Chi Minh City opened on September 1.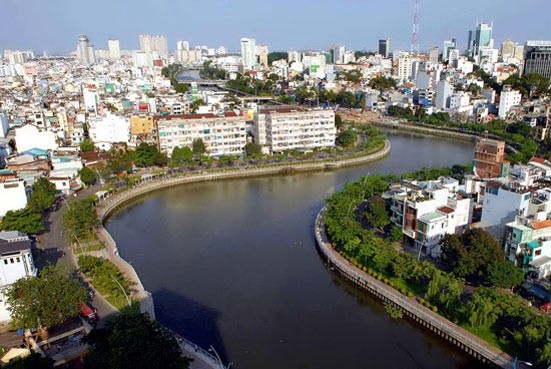 Nhieu Loc -Thi Nghe Cannal
The gondola tour will depart daily from Thi Nghe bridge's pier on Hoang Sa Street in District 1's Da Kao Ward and end in Distrcit 3's Le Van Sy bridge.
Waterway tourism is one of strategic products in the city's tourism industry. To diversify the types of tourism in anticipation of increasing numbers of tourists, the city has developed a plan to boost waterway tourism from 2013-2015, and a vision for 2020.
Ho Chi Minh City has set a target for boosting the average growth rate of waterway tourism numbers per year up 20 percent, annual revenue up 30 percent. Waterway tourism will become the city's key tourism product by 2020.
HCMC has a great potential to develop its waterway tourism like other countries in the region since water environment, environmental sanitation, landscapes along Ben Nghe, Tau Hu, Kenh Doi, Kenh Te canals have been improved. However it has very few products to meet the demand for this special tourism, although it has still lack facilities like a fully planned waterway network, boats, harbors, and stopovers for tourists.
According to experts and leaders of travel companies, the municipal authorities can develop short day tours presenting daily activities of local people along canals to international visitors. The local government should also create advantage for enterprises to build their own piers to pick up tourists.
HCMC authorities has built 45 new wharfs and station's waiting area in this year, promote 65 destinations througout the city to attract more travelers.