A seven-star hotel, expected to be one of the world's biggest hotels, will be built in Ha Noi by Israel's El-Ad Group.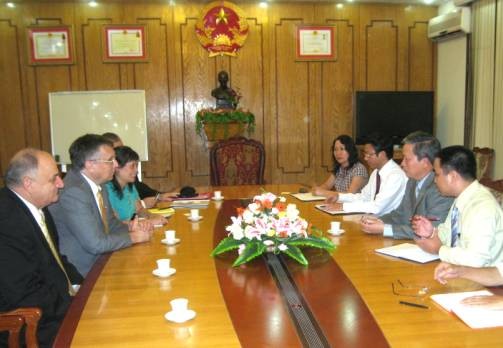 Isreaeli investors (L) and officials of the Ministry of Construction at the meeting.
The project includes a luxury hotel, an area for conferences, apartments, and an office building equipped modern facilities. The project is being planned in Singapore.
Viet Nam offers advantages to Israeli investors who wish to implement large-scale projects in the country, said Minister of Construction Nguyen Hong Quan at the meeting with Israel's ambassador to Viet Nam, Effie Ben-Matityau, and representatives of El-Ad and Delek, Israel's leading construction groups
Isaac Tshuva, Israeli billionaire, founder and chairman of the El-Ad Group, who was listed as No. 214 on the Forbes list of the world's billionaires last year, is one of the Israel's top businessmen. His son, Elad Tshuva, is deputy chairman of the Delek.
The El-Ad Group is a leading global real estate company with a portfolio valued over several billion dollars. It represents the best in luxury, residential, commercial and mixed-use properties.