Ha Long Bay in Quang Ninh Province, a UNESCO heritage site, has jumped to second place among the 28 finalists of an online voting for the world's new seven wonders.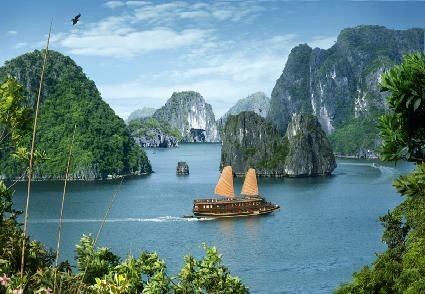 Ha Long Bay
The voting, organized by New Open World, is available at http://www.vote7.com.
The positive result is thanks to Quang Ninh province's efforts in boosting information dissemination and promotion of the image of Ha Long Bay to foreign friends.
The province has also developed tourism linkages with other provinces nationwide, especially the country's five biggest tourism centres.
The Vietnam National Administration of Tourism (VNAT) has planned a promotion campaign and asked Quang Ninh province to publish a tourism publication on Ha Long Bay with attached voting guidelines as well as build a game show named "Impressive Vietnam".
Ha Long Bay is drawing the attention of tourists from both road and waterways, helping to bring 5.3 million visitors to Quang Ninh in the first eight months of the year with estimated revenue of VND2.3 trillion (US$115).