Ha Long Bay was removed from the list of candidates for the world's seven natural wonders poll at www.new7wonders.com on April 14 after Phong Nha-Ke Bang National Park and Mount Fansipan were taken away a few days earlier.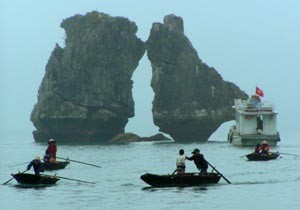 The Cock-Hen Rocks in Ha Long Bay (Photo: Truong Nguyen)
The bad news means NewOpenWorld, the organizer of the online poll, has removed all three candidates of Viet Nam from the list. Before being wiped out, Ha Long Bay in Quang Ninh Province, Phong Nha-Ke Bang in Quang Binh and Fansipan in Lao Cai had been on the top of the list.
Right on April 15, Mr. Nguyen Hong Quan, standing Vice Chairman of Quang Ninh Province and head of the Committee for Ha Long Bay Voting Campaigns presided over an urgent meeting with relevant agencies to work out a solution.
Mr. Ngo Hung, chief of the Ha Long Bay Authority, told the meeting that NewOpenWorld sent his authority a letter saying that some websites in Viet Nam have breached the agreement between the organizer and the authority and the campaigning committee. NewOpenWorld also requested "infringements" on the breaching websites be taken away within one week; otherwise, Ha Long Bay would be removed from the list.
The request said April 14 was the deadline but "infringements" were still there. Then, NewOpenWorld sent the second letter saying Ha Long Bay "is temporarily removed" from the list.
According to the organization, the main reason it did that is some websites of Viet Nam have used the "new7wonders" logo and images, copied the contents and the interface of the NewOpenWorld website without its agreement.
Hung of the Ha Long Bay Authority said the removal was "temporary" until the problem is solved.
Also on April 15, Mr. Quan, head of the Committee for Ha Long Bay Voting Campaigns, asked his committee members to react immediately. He made a report to the Minister of Information and Communications. He also sent a letter to Ms. Nadja Nahal, a NewOpenWorld representative, pledging that the problem would be solved soon, thus requesting Ha Long Bay to be listed again after the problem is solved.
According to NewOpenWorld, the four website addresses with the infringements are:
halong.tuoitre.com.vn/Tianyon;
www.halongwonder.com/vote.html;
thanhniennews.com/travel/?catid=7&newsid=37451;
diendan1080.com/halong/index_en.html.