A tourism conference in Ho Chi Minh City on September 13, covering countries under the Greater Mekong Sub-Region, was attended by Le Hoang Quan, mayor of Ho Chi Minh City and his counterparts Kep Chuk Tema of Phnom Penh in Cambodia, and Say Thong Keodovandy of Vientian in Laos.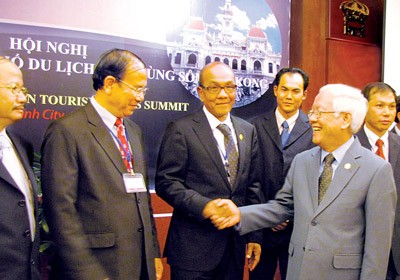 Le Hoang Quan, chairman of HCMC People's Committee (R) receives his counterparts from Phnom Penh (Cambodia) and Vientian (Laos)
After discussions, authorities from the three cities signed a mutual agreement on organizing tourism conferences every year to cooperate and develop tourism in the Greater Mekong Sub-Region, strengthen training of human resources for tourism, encourage cultural exchanges and activities, and preserve the traditional customs and cultures of the three countries.
The conference is one of the many activities taking place during the 8th International Travel Expo-Ho Chi Minh City (ITE-HCMC) that is taking place at the Saigon Exhibition and Convention Center in District 7 from September 13-15.
Hoang Tuan Anh, Minister of Culture, Sports and Tourism, said that the ITE-HCMC is a chance for local and foreign travel companies to seek business and cooperation opportunities, present their products to local people, and promote the 'Four Countries One Destination' tourism program covering Cambodia, Laos, Myanmar and Vietnam.