The Vietnam Golf Coast, a partnership of golf and beach resorts in the central coastal city of Danang, was set up August 12, expected to further bolster Vietnam's image as a rising golf destination in the region.
The founding members are Montgomerie Links Vietnam, Danang Golf Club, The Nam Hai, Life Resort Danang, and Golfasian Vietnam.
Designed by sitting European Ryder Cup captain Colin Montgomerie and opened in August 2009, Montgomerie Links Vietnam was recently ranked 7th on the list of top courses in all of Southeast Asia .
Meanwhile, Danang Golf Club was crafted by legend Greg Norman and opened in May 2010.
The Nam Hai is a luxurious and all-villa resort located on the coastal road linking Danang with Hoi An Ancient Town, a UNESCO World Heritage site.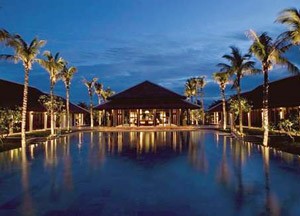 A view of The Nam Hai
Opened in March 2010, the five-star hotel Life Resort Danang is set on five hectares fronting beautiful Bac My An Beach.
Golfasian Vietnam is a leading golf tour operator in Southeast Asia. It has been named the official tour operator of the Vietnam Golf Coast.
The tour operator has arranged more than 17,000 golf trips to Thailand, Cambodia and Vietnam since 2001. However, CEO Mark Siegel sees the emergence of Danang as something of a breakthrough.
"The golf offerings in Danang are new, but a variety of factors have conspired to peg Danang as the top golf destination in the country, and one of the best in all of Southeast Asia," he said.
"For starters, I think Danang Golf Club and Montgomerie Links are the best two courses in the country. There are several excellent courses in Ho Chi Minh City and Hanoi, but they're all at least an hour from downtown hotels or the airports.
"The courses in Danang are just so convenient –15 minutes from the airport and literally right across the street from The Nam Hai and Life Resort Danang.
"And Danang itself is so convenient to all of Southeast Asia. When you consider all the non-golfing activities at play on the Central Coast, it's easy to see why golfers are already flocking here."
Jon Tomlinson, general director of Montgomerie Links, said, "We expect additional golf courses and hotels to join our cooperative in short order."
"There are half a dozen more golf courses in various stages of construction and planning here in the Central Coast region. We don't see them as competition. We see them as additional reasons why golfers should consider Danang for their next golf holiday," he said.
The Vietnam Golf Coast has also launched its website at www.vietnamgolfcoast.com.
Danang is the center of the central region. Just south of it, 20 minutes from The Nam Hai and Life Resort Danang, sits the UNESCO World Heritage city of Hoi An, with its extraordinary history, dining and shopping. To the north lies Hue, the country's last imperial capital.
Danang already accommodates international flights from Singapore and China's Guangzhou, in addition to domestic connecting service from both Hanoi and Ho Chi Minh City. Shanghai Airlines will soon commence a twice-a-week charter service from its hub Shanghai.