Located in the middle of Đèo Gió primeval forest, in Nấm Dẩn commune, Xín Mần town, Hà Giang province, Fairy Fall has a special beauty, which is both imposing and poetic.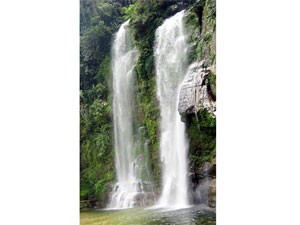 Fairy fall pours water down on Đèo Gió's cliff from the height of 70 meters
Fairy fall is a couple fall of which fountain is Tả Ngán stream. This stream originates from Bắc Hà town, Lào Cai province, at an altitude of about 1,403 meters.
Fairy fall is also called Wind Fall, since there is always wind blowing strongly at the foot of the fall.
This fall has a large and stable water flow, which provides water for irrigation and drainage for the whole area.
Staying in the middle of the immense green forest, the impressive Fairy fall pours the water down in a dazzling white color.
It only takes a few minutes to go a long the sloping stairs around the fall. At the very first stair, the cool fresh air would swarm in and give such a comfortable feeling.
The pure steam jet from the fall sometimes blows out and makes the scene look so dreamlike.
The water at the foot of the fall is always limpid and calm, which makes the bottom of the stream become so clear to see. Since the stream is hollow, tourists can play and enjoy the cool water at ease.
There is also a beautiful bridge across the stream, from which tourists can go along a path to have a complete sightseeing of the whole stream as well as the primeval forest.
Recently, a resort has been built to provide tourist a comfortable place for relaxing with a house on stilts and a system of small pleasure houses.
Especially, the native people here have succeeded in raising the Onchorynchus Mykiss, a kind of freshwater fish that is originated in Pacific Ocean.
Đèo Gió primeval forest is located at a height of 1,480 meters, with an area of 796 hectares. The forest has brought to Xín Mần town an ecological atmosphere, which is both imposing and mysterious.
This forest has a diversified system of plans and animals with over 3,000 species. Along with various kinds of animals and birds, there are some valuable and rare trees like bassia, teck wood, ironwood, oak and so on. 300 trees have already been over 500 years old.
With many values about geology, biodiversity and a particular ecosystem, Fairy Fall, along with Đèo Gió primeval forest were recognized as a national natural heritage in 2009.