The foreign delegations here for the APEC Economic Leaders' Meeting have been given a choice of 50 tours launched by Vietravel solely for them.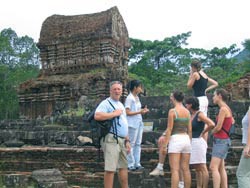 Tourists visit the My Son sanctuary
The leading travel firm says the itineraries have been carefully selected to show the best of Ha Noi and Viet Nam, its people, scenery, culture and customs.
All the accompanying services are described as "perfect". For one, the tour guides are proficient in at least one foreign language and know enough about history, culture, manners and customs to please anyone.
The Pre-Tour trips, which last for four hours or one to two days, are available until the APEC Economic Leaders' Meeting begins. All the food along the way is Vietnamese.
They involve traveling around the 36 streets of Ha Noi's old quarter and seeing other sights of the capital and some of the craft villages on the outskirts.
The longer Pre-Tours then leave Ha Noi and take in the sights of Ha Long Bay in Quang Ninh Province and the ancient capital of Hoa Lu in Ninh Binh.
After the meeting come the Post-Tours, which last 4-6 days and include a sea cruise and the standard tourist fare of Ha Long Bay, Sapa in the northwest, Phong Nha Cave on the central coast, and nearby Hoi An and the Champa temple ruins at My Son.
There's a lot more for the APEC guests to choose from, like golfing, scuba diving, trekking, bicycle riding, listening to the songs of Hue on the Huong River, and watching Champa dances.
More information can be found at Vietravel's new website for the occasion: www.apecservices.com.
The company's general director, Mr. Nguyen Quoc Ky, seems humbled by the opportunity given to Vietravel.
"It is a great honor as well as a heavy responsibility for our company to serve the APEC member economic leaders' meeting," he said.
"The perfection and quality of our tours, which aim to leave the international visitors with a good impression of the land and people, are most important for the company to attain. It's not about making money."