Cassia Fistula Resort is really a helpful playground for weekends with lyrical landscapes, which make tourists feel like they can go back to their childhood.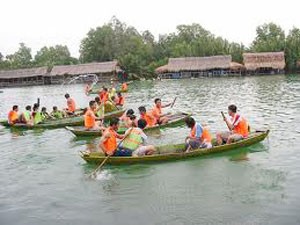 Rowing boat in Cassia Fistula
Cassia Fistula Resort is located in Phước Khánh commune, Nhơn Trạch town, Đồng Nai province, at a distance of 25 kilometers from Ho Chi Minh City. It is established in 1992 by Nguyen Van Suu, a retired teacher.
In 1992, Suu just intended to build his land into a large garden with fishpond and used a part of the garden for raising poultry. Then, when the garden was stable, he used to invite his friends to come by and enjoy the cool and pure atmosphere after tired working days.
Gradually, many people knew about this beautiful garden. They wanted to contribute and invest with land and money to develop the garden into a resort. Until 1999, the resort began operating. At first, there were many difficulties for lacking of investment.
In 2001, by cooperating with Saigon Tourist, the resort has been visited by a group of outdoor tourists. It was also named Cassia Fistula since then, after the cassia fistula tree that blossom every three or four months with beautiful clusters of bright yellow flower.
From that time, there have been many other travel agencies coming to Cassia Fistula Resort such as Dana tour, Hoàn Vũ tour, Fidi tour, Thương Hiệu Việt, Lửa Việt, including the "making friend club" of Thanh Nien newspaper.
With an area of nearly 4 hectares, including 200 houses on stilts and sentry – boxes, Cassia Fistula offers tourists commodious spaces to relax. There are also hammocks and chairs along the riversides as well as the fruit tree garden, where tourists can enjoy the nature completely.
If tourists come in group and has already registered, the resort would provide devices and playfield to help with some collective games as tug of war, stilt, blind man's buff…There are also some other activities that are closely connected with nature like water slipping, fishing, rowing bow or walking in the cool and fresh air in the garden.
In Cassia Fistula Resort, there is also outdoor playground for camping and picnic. Especially, there are some strong feeling games for young people. These games always have trainers who will help players be well prepared before playing.
Coming to Cassia Fistula Resort, tourists would also have chance to enjoy some traditional dishes with a low price but very delicious.
Recently, Cassia Fistula Resort has been developed into an ecological resort and become famous. More and more tourists from many places have come to Cassia Fistula to enjoy not only the exciting activities here but also the fresh and cool air of the resort.