The first flight from Kansai, Osaka Province, Japan on March 18 landed in the central city of Da Nang , bringing 161 tourists and representatives of 17 travel agencies.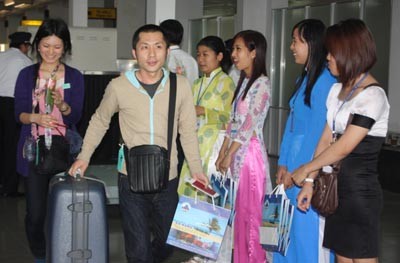 First visitors from Japan arrive at the Da Nang International Airport, Vietnam on the first flight from Kansai, Osaka Province, Japan on March 18
During their visit, the travel industry professionals will conduct an informational tour of Da Nang golf course, Hoang Dat casino, and the Ba Na tourism site and work with municipal officials to explore the tourism potential of the city in particular and of the central region of Vietnam in general.
Da Nang will have more chances to welcome Japanese visitors thanks to the direct air route from Osaka , which used to be served only by sea.
The city plans to open Japanese language courses for tour guides to serve the increasing number of visitors from Japan .
On the same day, the Seabourn Odessey cruise liner arrived with 352 holiday makers, mostly from the UK and the US , raising the total number of foreign tourists to Da Nang province in the first two months this year to 6,477.
The city plans to receive 70 thousands visitors on the occasion of the international fireworks display on March 27 and 28.