Only with VND30,000 a day, you can take a sightseeing tour of Ha Noi to enjoy the specific features of the city by bicyle. And Ha Noi's Department of Tourism will work out the plan of ecological cycling tour, which has recently attracted many foreign visitors.
Looking for Ha Noi's specific characteristics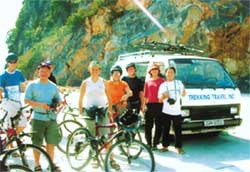 Foreign visitors on a long cycling tour
The cheap price is not the reason for the development of cycling tour, but its convenience is really what attract visitors. They can hang around every corner of Ha Noi to enjoy city's specific characteristics.
Germany visitor Luthar said, "I like to go around Ha Noi for sightseeing by bicycle. I can enjoy lovely views of Ha Noi, including an ancient pagoda lying under the ancient tree, street vendors, souvenir shops and galleries."

"Taking a sightseeing tour of Ha Noi by bicycle brings special pleasures to visitors. There is nothing like the hustles and bustles you see in other cities. There are not many places for entertainment, but a lot of ancient and quiet beauties which require deep knowledge of history and culture to understand," said Robert Elliott, an Australian visitors.

According to Ms Huong Giang of Diep Tran Tourist Company, her regular customers are foreign visitors and students who are living in Ha Noi. They are quite familiar with Vietnamese customs, able to speak the language and find their ways around, and want to penetrate into Ha Noi's life.

To meet visitors' demands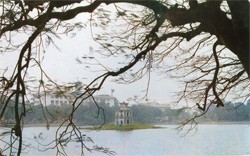 Sword Lake in Ha Noi City
Most bicycles for rent business are located around Ha Noi's old quarters, such as Dinh Liet, Hang Bac, Hang Be, etc. Every shop has 5-7 or up to tens of bicycles. The shops get very busy during the day.

It is very easy to rent a bicycle. Visitors have to leave their passports and no contracts are needed.

The rental rate is US$5-8/day for mountain bikes, which are intended for long-day tours of 5-7 days from Ha Noi to Sapa or Mai Chau. And the prices of VND20, 000-50,000/ day are for tours around Ha Noi or to city's adjacent areas of Bat Trang pottery village, 10 km from Hanoi, and Van Phuc village, 15km to the west of Ha Noi, renowned over centuries for its silk products.

"Nearly all foreign visitors use their bikes safely because of their good traffic awareness," Ms Hoang Thi Huyen of Viet Nam Geographical Holiday Company, said.

According to Ms Nguyen Thi Binh, from the Ha Noi Tourism Department, tourist companies are developing the ecological cycling tours from Ha Noi to provinces of Bac Ninh, Ninh Binh, Hoa Binh and Lao Cai.
Ha Noi's Tourism Department has investment plans to develop Soc Son Recreational Area. This is the surrounding area of Soc Son Temple, 40 km north of Hanoi. It will be built on the area of 274 ha with the budget of US$300 million and expected to attract 800,000 visitors per year.
The project is to serve the increasing demand of local visitors from Ha Noi and adjacent provinces as well as visitors to Hanoi.

Link: http://www.aseansec.org/Invt-List-Web/Viet%20Nam-1.htm