Around 3,000 wealthy tourists arrived in Viet Nam on the massive Princess Sapphire cruise ship. Earlier, several sea ports in Viet Nam had also welcomed many other 5-star cruise ships.
Welcoming 5-star tourists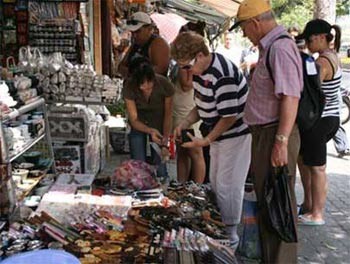 Many foreign travelers go shopping and sight seeing on the main streets downtown HCMC.
Nearly 3 hours after the Princess Sapphire cruise ship carrying approximately 3000 tourists docked at Phu My port in Ba Ria – Vung Tau on December 27, crowds of foreign visitors flooded Ben Thanh market, Rex Hotel, New World Hotel … They flocked to the main streets in HCMC's District 1 such as Le Loi, Dong Khoi, Nguyen Hue … for shopping and sightseeing.
The busiest places were shops selling souvenirs, jewellery and fashions. Only for 10 minutes inside a small souvenir shop on Le Loi Street, these foreign visitors spent thousands of US dollars for souvenirs.
And the walking paths inside Ben Thanh market were thronged with tourists.
"The merchandise here may be cheapest and most diversified as compared with that in many other places I have been to. But it is too hot in here", Laura, an American tourist, said. She looked rather satisfied with the three T-shirts she had just bought for US$30.
Within a few days docking in Viet Nam, the earnings from that giant cruise ship for logistical services such as docking fees, water supply, navigation … were estimated to be approximately from VND700 to 800 million. The figures, however, seem meaningless when compared to the spending of those wealthy tourists on city tours, shopping, dining and entertainment.
Mr. Le Dinh Tuan , director of the HCMC Tan Hong travel agency said that cruise ship tourists are mostly senior citizens of high and stable income and thus their requirements for quality services are very high, and they especially love shopping. These visitors spend at least US 100 a day per person, added Tuan.
More cruise ships are coming
Viet Nam has become the first choice of more and more cruise ship companies.
Princess Sapphire is only one of tens of 5-star cruise ships that docked at ports in Ba Ria – Vung Tau, HCMC, Ha Long … in the last few days. In HCMC alone, big ships such as Spirit of Adventure, Costa Marina, Nautica … docked at Sai Gon port on the 24th, 25th, 26th and 28th of December.
Mr. Vo Anh Tai, director of Saigontourist Travel Services Company, said that more and more cruise ship companies are choosing Viet Nam as their destination. About 30,000 tourists are estimated to come to Viet Nam in 2007, twice the number of 2006.
Tan Hong Travel Company expects to welcome around 40,000 travelers. Vietnam has become a safe and attractive destination for foreign tourists, so they travel here not only by land or air but also by sea in great numbers, Tai emphasized.
Based on the docking schedules of international cruise ships to Vietnam in the last few months, it can be said that there is a rather special change. Apart from well-known cruise ship companies, newcomers from the US, Italy, the UK have also appeared in Viet Nam.
Also, some cruise ship companies have decided to extent their stay in Viet Nam,choosing the country as one of their fixed stopovers of their tours. With assistance from Saigontourist, the cruise ship Costa Allegra (Italy) has recently decided to choose Ha Long as a fixed destination in their regular 5-day tour programs.
In order to keep tourists staying longer in Viet Nam, Ms. Cassancha Mani, head of the tour operation division of Princess Sapphire, advised that Viet Nam should build more ports that specialize in tourism purposes in big cities such as HCMC, Nha Trang, Da Nang, Ha Long. Services for tourists like reception, entertainment, shopping, hotels, and parking lots…should be also built in those places. Furthermore, there should be more convenient and diversified international air routes as this will determine whether cruise ship companies would choose Viet Nam as one of their regular yearly destinations or not.