After two days of "wandering" throughout Ha Long Bay to shoot its wonderful landscape, the production team from Singapore's CNN branch went to Blue Beach on Quan Lan Island, Bai Tu Long Bay yesterday to film the last primitive sights of the coastal area before returning today to Ha Noi.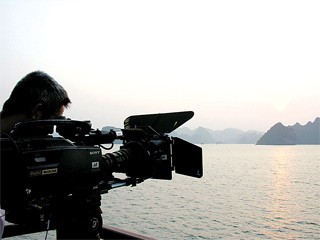 CNN's cameraman Kin Chuan shoots the sunset on Ha Long Bay
The first area filmed by CNN's production team in Ha Long Bay was at Thien Cung – Dau Go Cavern.
The five member crew was awed by the fantastic scenery of the bay where their boat sailed through rocky limestone islands jutting up out of the water.
Each island has its own unique shape and name. Several are hollow and presented the visitors with inspirational caves and grottos. 
The crew was said to be particularly impressed by the stalactites of Dau Go Cavern.
Their next stop was Titov beach, followed shortly by several other locations, including Trong Mai Rocks, Ba Hang Cavern, Sung Sot Cave, Bo Nau Cave, Ba Ham Lake, Ba Mun Island, and Trinh Nu Cave.
The team stopped by Cua Van fishing village to shoot the daily activities of fishermen. They received a warm welcome from Cua Van inhabitants, increasing their favorable impression of the region.
Creative director Veronica Phua told his colleagues that the sights of Ha Long Bay made him feel as if he were witnessing a truly magical place previously seen only in paintings.
Director Lum Chee Kin said the most beautiful sight was the view of Ha Long Bay from the roofs of Ha Long-Sai Gon and Ha Long Plaze hotels.
"It was fantastic to see this world famous bay and thousands of green islands with my own eyes," he said.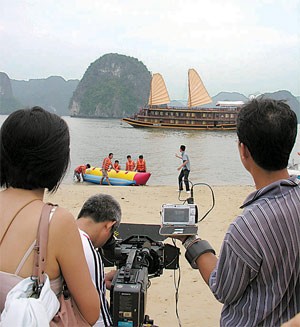 The crew films the sights of Titov Island
Before going to the bay, the crew had shot hundreds of scenes in Ha Noi for CNN's 30-second television commercial about Viet Nam and its people. 
The commercial, of which Ha Long Bay will be the center, is designed to promote tourism and will air on October 1.
The video clip is part of the Government's plan to advertise Viet Nam's growing tourism industry throughout the world. The total expense for filming and broadcasting is US$275,000.
The clip also will aid Ha Long Bay as it vies for a place among the Seven Natural Wonders of the World. 
The Seven Wonders will be elected later this year in a project initiated by the New Open World Organization.
Tia B. Viering from the organization said Ha Long Bay is thus far among the top destinations selected after only one month of nominations.
Related articles:
CNN Starts Filming Ha Long Bay for TV Commercial
VNAT Gets Nod to Advertise On CNN
VNAT to Advertise on CNN Television