The central localities of Thua Thien-Hue, Da Nang and Quang Nam will cooperate with each other in tourism in order to ensure sustainable development.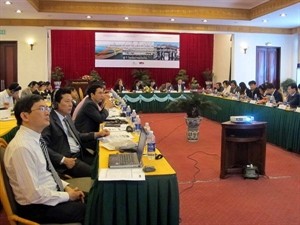 The signing ceremony (Source: VNA)
With technical support coming from the Responsible Tourism Project, funded by the European Union (EU), the model is expected to set an example in managing inter-provincial destinations, Nguyen Van Tuan, head of the Vietnam National Administration of Tourism, said at a signing ceremony in Hue city on February 27.
According to him, the three localities have been viewed as key areas in Vietnam's tourism strategy and master plan by 2020 with a vision towards 2030.
Speaking at the event, Berenice Muraille, head of Cooperation and Development of the EU Delegation to Vietnam, laid stress on the need for Vietnam to roll out measures to raise its competitiveness with neighbouring countries.
Urging collaboration between the State and the private sector, the EU official expressed her hope that the model will help encourage visitors to stay longer and come back the country.
Echoing Muraille's views, Vu Quoc Tri, Director of the EU-funded project, called for the participation of the private sector in tourism management, especially local tourism associations.
In 2014, the EU-funded project will provide consultations regarding the management of attractions, in addition to helping the provinces explore holiday-makers' demands, develop responsible tourism products and spur human resources development in this field, among others.
Earlier, the project also granted technical support to assist eight northwestern provinces through a similar model, which will also be implemented in the central provinces of Thanh Hoa, Nghe An and Ha Tinh, and several Mekong Delta provinces in March and April.