Ben Tre Province has great tourist potential, yet it is barely met due to a lack of investment, said Nguyen Thai Xay, chairman of the province People's Committee July 1.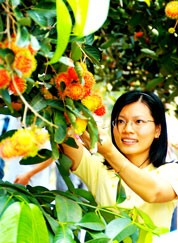 A tourist enjoys rambutans at an orchard in Cho Lach District, Ben Tre Province (Photo: SGGP)
Speaking at a seminar, "Ben Tre tourism – investment and development opportunities," held by Sai Gon Giai Phong and the province to discuss opportunities and solutions to develop Ben Tre tourism, delegates said that one of difficulties that Ben Tre tourism has to face is inadequate skills.
Tour guides in the province are very weak. They do not know how to best introduce the culture and history of the province to visitors.
Some other delegates said that the poor quality of tourist services is also a problem.
Capital is another obstacle. In the first six months of 2009, in spite of the economic recession, capital investment in tourism rose to VND10 billion (US$571 million). However, it has not met the demand to modernize road infrastructure.
Ben Tre has the largest number of canals in the Mekong Dellta region, thus the province has met with many difficulties in building a road and bridge system.
Tourists want to come to Cho Lach 'fruit kingdom' but a 50 seat bus cannot travel across the necessary bridges.
Management of tourist hotspots in the province has also met with difficulties, including a shortage of clean water and lack of electricity and places for tourists to stay.
Provincial officials have become accustomed to the continual headaches caused by trying to arrange places for tourists to stay, as there is just one three star hotel in the province, Nguyen Quoc Bao, deputy chairman of the province People's Committee said.
Overcoming difficulties to develop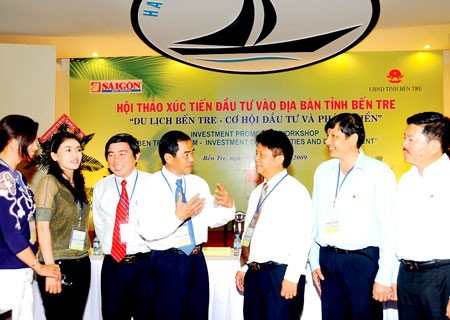 Delegates at a seminar held in Ben Tre July 1 to develop Ben Tre tourist potential (Photo: SGGP)
Ben Tre is willing to create advantageous conditions for investors and companies to develop its tourist potential, Mr Xay stressed.
Just 85 kilometers from the HCMC, Ben Tre has been a destination for many investors, Phan Quang Dung, chairman of the board of directors of Ben Tre based Phuoc Kien Real Estate Business Investment said.
The company has now invested in a project "tourist urban, human community" in Ben Tre Town.
Sharing experiences at the seminar, Trieu Cong Tin Thanh, deputy director of Viet Travel, said that to develop Ben Tre tourism, the local authorities should strengthen promotions and advertising, especially in creating more tourist services to attract visitors.
Agreeing with Mr Thanh, Nguyen Minh Nhut, from Saigontourist Transport, said that Ben Tre should coordinate with SGGP to hold similar seminars in HCMC and invite consulates to participate and introduce companies to invest in Ben Tre.
According to Sonny Soon, general director of Anoasiss Resort, the province should focus on tour guide training, as it is as important as building infrastructure.
Ben Tre should coordinate with other provinces, like Tra Vinh, Vinh Long and Tien Giang, to develop tourism in Ben Tre, as well as in the Mekong region, Nguyen Truc Son, director of Ben Tre Investment Promotion and Support Center, said.
Officials should study a marketing strategy for the region, he added.
However, Ben Tre will establish a travel promotion center that has offices in important areas to introduce images of Ben Tre to visitors, he confirmed.