Vinh Sang Resort is a beautiful land with a large natural garden in which many fruit trees and canals link together to create wonderful landscapes and comfortable atmosphere.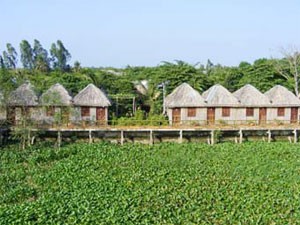 Floating hotels, a unique feature of Vinh Sang Resort
With an area of 2.2 hectare, Vinh Sang resort is located in An Binh islet, in Vĩnh Long province. At Vinh Sang, tourists can completely enjoy the countryside atmosphere of the South East through many exciting activities.
Some games that bring strong feeling like fishing crocodile or riding ostrich would help players have real feeling about the history of reclaiming the Southland.
 
In Vinh Sang, there is a flock of African ostrich which includes 60 grown – up ones. This is the biggest bird in the world; and especially all of them are brought up right in the Mekong Delta. The game of riding ostrich is highly preferred since everyone finds it interesting to ride bird on sand – bank in the cool and wild atmosphere of the South West.
There is a series of traditional games that also help tourist to try real experiences of the South West farmers like rowing boat, spreading net, catching fish or building ditch…
The journey of discovering the waterways would be more interesting when tourist can use the freshwater fishes that they caught to make baked fish right in the garden and then enjoy it with wine that is made from fermented sticky rice.
Not only that, tourists would also have a chance to listen to beautiful melodies through a unique form of Southern folk – song, which is "Đờn ca tài tử". In such a peaceful atmosphere like that, tourists would be sure to have a completely relaxing time.
 
One more interesting point in Vinh Sang is that tourists can stay through the nights in floating hotel. All of the rooms are floating on the rivers by raft. Rooms are made of coconut trees with enough convenience so that tourists can live a modern life in a pure nature.
Also in Vinh Sang, tourists can join in many other activities like swimming, slipping on water, or riding bicycle through fruit trees garden. There are cruise ships that carry tourists into the channels nearby to visit some traditional trade villages along the rivers. Among them, the pottery – kiln that makes red pottery is a particular and famous one that only has in Vinh Long province.
Vinh Sang Resort is a place that will promise to bring not only interesting and relaxing moments but also give tourists chances to experience many new things of the South West land.