As pat of a renovation plan to make it one of the best four-star hotels in Ho Chi Minh City, Amara Saigon has started a month-long culinary program featuring Singapore gastronomy.
New Singaporean chef Danny Koh is in charge of the program, organized at "The Café" Restaurant until February 12 and in the form of buffets – US$12 for a diner with free draught beer and soft drinks.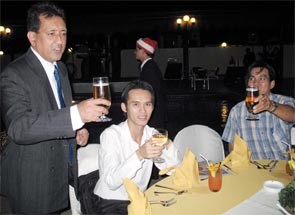 Lakshman Perera of Amara (L) toasts with guests who came to enjoy Singapore food (Photo: Tuong Thuy)
"Viet Nam has been a hot destination for investors from around the world who come to do business. Their demand for hotel services never stops increasing and the services therefore must be improved all the time," said Mr. Lakshman Perera, new general manager of the Amara Saigon.
"Currently, our Singapore Food Month aims to bring Singapore dishes in a homelike atmosphere to Singaporeans and Malaysians living in Viet Nam. With the program, we also introduce Singapore gastronomy to those who love Singapore food at a soft price."
He said Singapore dishes had their origins from China, India and other regional countries but have the island's own characteristics.
Regarding the 300-room hotel's ongoing renovation plan, he said: "Our vision is to become the best four-star hotel with five-star services and standards."
Amara is refurbishing the 8th and 9th floors with new decorations, lighting, carpets and furniture. A steakhouse will open in the next few days with Australian and New Zealand steaks, and Australian, Californian and French wines.
Amara will then give a face-lift to its meeting rooms on floors 4, 5, 6 and 7 by renewing carpets, wall covering, lighting and furniture.