Viet Nam enjoyed trade surplus last year. Trade surplus so far this year has exceeded US$166 million.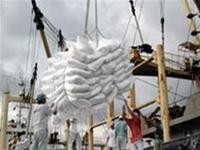 Rice loaded for export at Sai Gon Port in Ho Chi Minh City
Statistics show that Viet Nam's exports surpassed US$5.5 billion in the first two months this year, US$1.4 billion higher and up 28.3% on the same period last year.

The list of main export earners has extended to include items like electricity wires and cables, plastics, handicrafts, furniture, vegetables, fruits and even instant noodles. The year-on-year growth rates of the new exports ranged from 18% to 61%.
The ministries of Trade and Industry have done a good job supporting exporters. With their assistance, footwear and garment firms have made great efforts to raise their export turnovers by 31% and 45%, respectively.
The local market has seen new consumer trends. Prices of imported cars have decreased by 32% on average because used cars will be imported soon. However, it is necessary to encourage consumers to choose Vietnamese made over imports.
Trade surplus has been achieved in early 2006 but it is difficult to maintain the momentum throughout the year. Relevant agencies have forecast a trade deficit for 2006, a reality prior to 2005. Trade surplus in the early months is a positive signal, boosting hope for a lasting healthy current account. However, consistent efforts need to be made to keep imports and import consumption under control and actively channel imports into reproduction in order to generate value-added products, while many efforts are being made to change the situation. Among the endeavors, manufacturers have increased value of exports.