: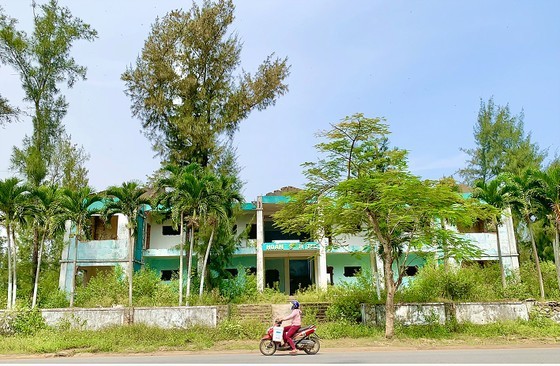 A corner of My Khe Tourist Area project is abandoned and downgraded. (Photo: SGGP)
Several real estate projects in general and tourism real estate in particular across the country, especially along the Central coast, have been suspended and degraded, leading to many consequences. First, land resources and money invested in them are wasted. Secondly, many construction companies do not have any contracts. The construction material industry faces difficulties. The construction workers lack jobs. It raises questions about which solution can revive and effectively exploit these real estate projects.
Construction started then stood still
Located about 15km from the center of Quang Ngai City in Quang Ngai Province, My Khe Beach in Tinh Khe Commune of Quang Ngai City is known as a sea tourism paradise and planned as one of nine national tourist areas of the South Central Coast region for the 2020-2030 period. Six tourism real estate projects that used to be started noisily are standing still now. Of these, the My Khe beach resort project is in a state of ruin.
Looking at the project from the outside, Pham Thi Th., a resident of Tinh Khe Commune, said bitterly that when the project started, villagers expected that the project would help develop tourism and the economy and create jobs for local people. However, at present, the resort project is like a graveyard, with weeds and trees growing as densely as a forest. My Khe Tourist Area project has an area of 23.5ha, with a total investment capital of VND824 billion. The original investor, My Khe Vietnam Joint Stock Company, promised to build 85 villas, amusement parks, entertainment venues, and restaurants. The project was started in March 2010 but was stopped in October 2012 because the investor ran out of capital and transferred it to My Khe Resort Villas Joint Stock Company. Up to now, the project is still a mess.
In Khe Hai Strait in Binh Thanh Commune, Binh Son District, in Quang Ngai Province, the Thien Dang tourist area (Paradise), invested by Thien Dang Company has been making local people and authorities frustrated. In 2005, the Paradise Resort project made this area vibrant by a scale of up to 286ha (two phases), with an initial investment capital of VND200 billion, then increasing to VND1.8 trillion. In 2009, the project finished phase 1 with an area of 32.4 hectares, then ran out of capital and was abandoned until now. Currently, this tourist area looks like a dump site of debris, with construction categories dilapidated and degraded.
In Quy Nhon City of Binh Dinh Province, the SGGP Newspaper recorded two large abandoned projects at the prime location in this coastal city, including the Ghenh Rang Hill Tourist Area project with an area of 186ha and the project of Phu Hoa Lake Urban Area with a total area of 370ha. Of these, the Phu Hoa Lake Urban Area project approved in July 2015, implemented by the joint venture of Phuc Loc Group and Thanh An Joint Stock Company, was expected to promote Quy Nhon tourism to develop strongly, aiming at becoming the entertainment center of the South Central and Central Highlands regions.
Not far from these projects, the complex of FLC Nhon Ly Tourist Area has occupied thousands of hectares of land, but many subdivisions are still abandoned or revoked. Some unfinished hotels and resorts are downgrading.
Similarly, the Hai Giang Merry Land super project occupying nearly 625 hectares in Mai Huong Peninsula is invested extremely slowly and diffusely. It has neither shaped clearly nor created the stature of an Asian-class tourism project as expected.
The Thi Nai Eco Bay project, with a total investment capital of nearly VND5 trillion invested by Thi Nai Eco Bay Joint Stock Company, has been allocated 29 hectares of land along the Thi Nai Lagoon since 2018. It is also suspended now.
Inactive after constructing noisily
The super resort project Novaworld Phan Thiet used to have tens of thousands of workers continuously working all day and night, attracting thousands of customers to ask for information and order. It is also quiet now. Hundreds of finished houses are almost empty. The playground for children is deserted. Dozens of devices for the construction of golf courses, swimming pools, and many other works stand still. The project's sales staff said that customers still came to learn about the project, but the number of customers was small, and all of them wanted to know when the project would restart to decide whether to invest or not.
It is recorded that many coastal provinces and cities, such as Phan Thiet, Quang Nam, Da Nang, Thua Thien - Hue, Quang Tri, Quang Binh, Nghe An, and Thanh Hoa, have several resort development projects with a scale of hundreds of hectares abandoned or under construction.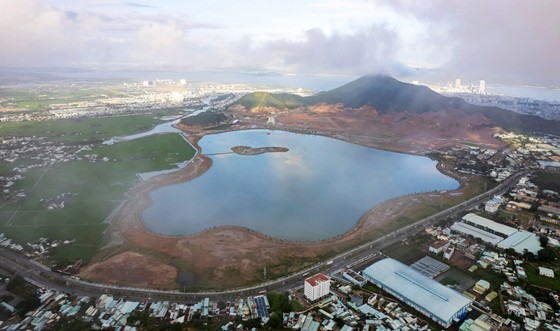 The Phu Hoa Lake Urban Area project has been inactive for eight years. (Photo: SGGP)

Along the coast from Ba Ria - Vung Tau to Binh Thuan, Nha Trang, and Quy Nhon, it is not difficult to see many villas in the resorts that have downgraded, and weeds block the entrance.
Typically, in Thua Thien - Hue Province, the Bai Chuoi Vietnam Beach Resort project was allocated 100 hectares of land in the Bai Chuoi area in Lang Co Town in Phu Loc District for Bai Chuoi One Member Company Limited to build a resort with investment capital of US$102 million. However, according to findings, since being granted the investment certificate in 2008 and preparing for construction, up to now, the project has remained inactive.
The project of Vinconstec - Hue Resort Urban Area occupied 72ha of land in Phu Thuan Commune in Phu Vang District of Thua Thien - Hue Province is also in a similar situation. After completing the construction of the load-bearing structure, the project suddenly stopped construction.
According to a leader of Phu Thuan Commune, the project was granted an investment certificate in 2008, with a total capital of VND600 billion, and was expected to be completed in 2011, but now it is still covered with blankets. Currently, 64 households in the project area have not been compensated for site clearance according to regulations. Many building materials suppliers and construction workers have not yet received payment from the construction contractor.
Referring to the situation of abandoned and suspended projects at My Khe Beach, Thien Dang Tourist Area project, and An Son Urban Area project, Mr. Dang Van Minh, Chairman of the People's Committee of Quang Ngai Province, said that this situation has caused many difficulties for the local tourism industry. According to Mr. Dang Van Minh, many projects are currently in a dilemma, encountering problems not only in investment but also in legal aspects. The province has been guiding investors to remove obstacles and gradually revive projects.
In 2023, the tourism industry aims to welcome 110 million tourists, including about 8 million international visitors. Total revenue from tourists is estimated at VND650,000 billion.
Lack of infrastructure
While hundreds of resort real estate projects are covered with blankets, many localities seriously lack the infrastructure to serve tourism development.
According to the action plan on building Thua Thien - Hue Province to be one of the large and unique centers of the country and Southeast Asia in terms of tourism promulgated by the provincial People's Committee in October 2021, by 2025, Thua Thien - Hue Province will become a unique tourism center of the country, a typical festival city of Vietnam, and a clean tourism city of the ASEAN.
Accordingly, there will be ten 5-star hotels and resorts. At the same time, the province will call for investment in 3-5 projects to build 5-star hotels and resorts. The tourism industry will attract about 6 million visitors to Thua Thien - Hue Province, of which, international visitors account for 45-50 percent. However, currently, the infrastructure - considered the backbone of tourism development of Thua Thien - Hue Province - has many limitations. Especially, several coastal resort projects with a capital of thousands of billions of Vietnamese dong were started and stopped, resulting in many consequences.
The representative of the Department of Planning and Investment of Thua Thien - Hue Province said that the projects were inactive for many reasons. For instance, investors suffered losses in business activities, so they can no longer afford to implement the projects. Although provincial leaders have put forward many solutions to overcome this situation, the reality is quite difficult.
Despite attracting a large number of tourists over the years, Nhon Ly Peninsula Commune in Quy Nhon City of Binh Dinh Province still seriously lacks resorts and entertainment venues.
Mr. Nguyen Tan Dung, Chairman of the People's Committee of Nhon Ly Peninsula Commune, said that the increasing number of tourists coming to the peninsula had created jobs and improved the life and income of local people. However, recently, many resort real estate projects have stagnated, causing many local tourism development goals and programs to face difficulties.
The tourist attractions in Nhon Ly urgently need a master plan to attract investors to exploit them properly. There should be policies to create conditions to maintain and remove difficulties for tourism projects, Mr. Dung suggested.