At the Mid-Year Meeting of the Consultative Group of Donors for Viet Nam taking place on June 9-10, half of the time was spent on discussions about fighting corruption in the country.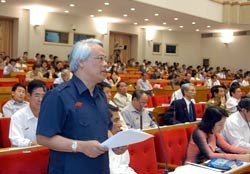 Vietnamese legislators spent much time discussing anti-corruption in the ongoing National Assembly session. (Photo: SGGP)
This is well understandable because corruption is rampant while Viet Nam is making efforts to join the World Trade Organization and international official development aid (ODA) is flowing into the country to help it further develop and reduce poverty.
The World Bank has urgently sent inspectors to Viet Nam, saying that the country will have to return aid if embezzlement of ODA is found. Other donors also made similar announcements. They require Ha Noi to show its commitment to fight corruption in reality.
The Vietnamese Government vows to take strong measures to combat corruption. These will include mapping out an anti-corruption program with "no exception," Deputy Prime Minister Pham Gia Khiem said during the Consultative Group's meeting.
In fact, Ha Noi has recently demonstrated its resolute commitments by bringing to light corruption cases of PMU 18 and Vietnam Airlines.
Commitments are available but it is not easy to translate them into reality. The reason is, as put by experts, that Viet Nam does not have an overall program and a specific roadmap to fight corruption. In other words, anti-corruption in Viet Nam is currently just a "case solution".
The Anti-Corruption Law took effect on June 1, 2006 but it has not been really implemented because of absence of guidelines. Another case is the delay in stipulating rules to inspect state officials' incomes, the mechanism for the National Anti-Corruption Committee, and regulations on property declaration and responsibilities of the heads of corruption-related organizations. The causes of all the stagnancy is not just time but also includes dialectical reflections of the scope, the depth and extent of corruption.
Again, the basic question here is where to start fighting corruption. Regarding this problem, Vietnamese and international economic experts, through the unveiled cases of PMU 18 and Vietnam Airlines, have pointed out "Achilles' heels" in Vietnam's socio-economic management mechanism. The country must comprehensively solve the problem, and this is the only way to restore the public confidence and the shortest way to success.
Related article
Viet Nam Commits to Fighting Corruption