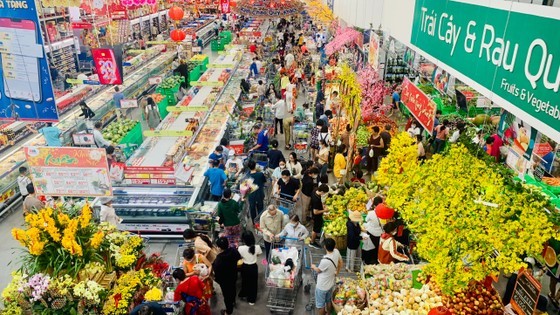 People go shopping at MM Mega Market An Phu in Thu Duc City. (Photo: SGGP)
Le Van Hoang, living in Luy Ban Bich Street in Tan Phu District, opened his phone and looked at the shopping list that his wife suggested, such as cooking oil, Banh Chung, sugar-coated fruits, candy, melon seeds, and sunflower seeds. When he finished shopping, the cart was full of goods, but the list of items needed to purchase was still long.
"I buy this amount of goods first, and tomorrow morning (January 20), I will visit the supermarket early to buy more. Last night, I also lined up to shop at some supermarkets until late at night, but I could not finish the shopping list because too many customers flocked to shop. This year, my family buys gifts for relatives in our hometowns, so it takes a lot of time to choose goods," Hoang shared.
It was recorded that supermarket systems, namely BigC Truong Chinh Supermarket in Tan Phu District, Co.opMart Quang Trung in Go Vap District, and MM Mega Market in Thu Duc City, District 6, and District 12, were crowded with customers. The parking lots below and outside the supermarkets were fully packed with vehicles of all kinds.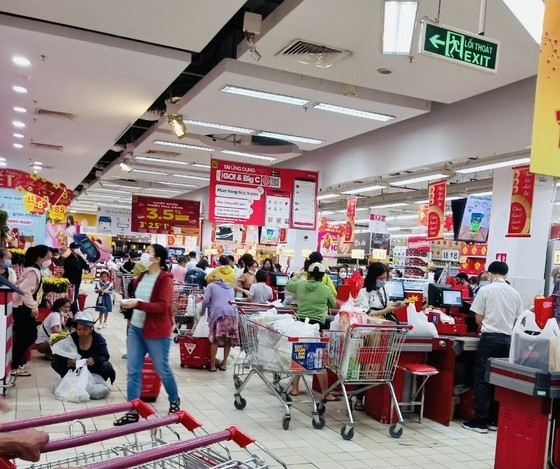 Customers wait for checkout at the checkout counters at BigC Truong Chinh. (Photo: SGGP)
The prices of some fruit products, such as pineapple, mango, papaya, and custard apple, range from VND16,000 to VND42,000 per kg or per fruit, depending on the type. Currently, the selling prices have been reduced by VND3,000-10,000. At the same time, confectionery, sugar-coated fruits, and melon seeds are also purchased heavily by many customers, with prices ranging from VND11,000 to VND25,000 per 100g.
Supermarkets under Saigon Co.op, such as Co.opMart, Co.opXtra, and Co.op Food, said that from now until January 20 (the 29th day of the last month in the lunar calendar), supermarkets would serve from 6 a.m. to 10 p.m., two hours longer compared to normal days. On January 21, supermarkets are open from 6 a.m. to 12 p.m. These supermarkets will temporarily stop serving on the first day of the Lunar New Year. They will open for business only in the morning from the second to the fifth day of the Lunar New Year and operate normally again as of the sixth of the Lunar New Year.
At MM Mega Market Hiep Phu in District 12. (Photo: SGGP)
According to the representative of MM Mega Market Vietnam, its supermarkets in HCMC (An Phu, Hiep Phu, and Binh Phu) and Hanoi (Thang Long) will open for sale 24/24 to serve the sudden increase in shopping demand from now until the end of January 20. On January 21, this supermarket system will be closed at noon. It will close on the first day of the Lunar New Year and will be back to business on the second day of the Lunar New Year.
Meanwhile, the supermarket system of Go!, Big C, and Tops Market opens at 7 a.m. and close at 11 p.m. during the days before Tet. It will be closed at 2 p.m. on January 21 and reopen on the second day of the Lunar New Year.