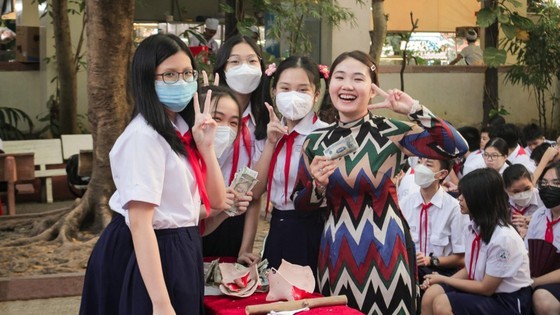 Students, teachers engage in many charitable activities to help disadvantaged people
Bui Vu Anh Khoa, a student of class 11A1, Chu Van An Continuing Education Center in HCMC's District 5, spent the past two weeks doing meaningful work when he went with his classmates to buy gifts - dumplings, mineral water bottles, milk cartons into gift bags for the homeless and disadvantaged children.
The boy said that it isn't the size of the gift that matters, but the size of his and his classmates' heart that gives it. Through trips to give gifts to homeless people and disadvantaged children, the boy had elaborate feelings including the chirping images of the children to the grateful eyes of the elderly and uncles when receiving gifts.
Thanks to these trips, he has just understood that a lot of people in the city have been still undergoing difficult lives and need others' help, said student Khoa.
After the trip, this male student said he felt more clearly the meaning of life, including the connection between members of a collective, and sharing between people in society. Most importantly, Anh Khoa feels cherishing life when he is still luckier than many people. The lesson "giving and receiving" is no longer dry in books but in reality.
Ms. Nguyen Thi Thuy Dieu, homeroom teacher of class 11A1, and also a Youth Assistant of the Chu Van An Continuing Education Center, disclosed that in order to carry out charity activities, students of all grades collected and sold water bottles, recycled materials, old books and newspapers, cartons to raise funds for the activities. In addition, the children also donated their money to buy gifts including bread, dumplings, lunch boxes, milk, and mineral water to give to homeless people, disabled people, and street children with the hope that everyone has a decent dinner so that they can be happier.
Similarly, from the beginning of the school year 2022-2023, the Youth Union of Luong The Vinh High School in District 1 has called for contributions to the fundraising program. Accordingly, each class was given a piggy bank for students to practice saving. According to Mr. Ha Huu Thach, Principal of Luong The Vinh High School, this is the school's annual activity. The money will be used to help disadvantaged students in the school and buy Tet gifts for disadvantaged families in District 1's Co Giang Ward.
Until now, nearly VND151 million was collected to help poor students with the expectation to help them enjoy spring and celebrate Tet. Particularly, Trung Vuong High School's Youth Union in District 1 has just launched the program 'Joining hands for the motherland's sea and islands'. Accordingly, students save money for breakfast every day to share difficulties with less fortunate lives to spread love amongst people.
With the activity to help schoolmates with difficult circumstances, Mr. Le Long Ho, Youth Assistant of Luong The Vinh High School, said that each student from low-income families received VND1 million and Tet gifts worth VND350,000 to help them have more motivation in their studies. The activity aims to spread kindness amongst students in the school.
Nguyen Gia Thieu Secondary School in Tan Binh District has a different way to cultivate kindness amongst students. The school organized an experiential learning trip to Mai Anh center in the Central Highlands Province of Lam Dong's Da Lat City at the end of December 2022. Ninth-grade students visited the center and gave gifts to disabled children and orphans residing in the center. The trip has helped students better understand the disadvantage of the less fortunate.