High school children have been buying electric bicycles in great numbers in the short couple of weeks since the new school year began.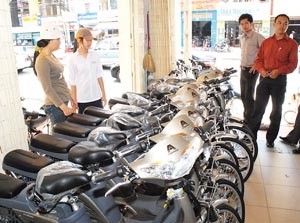 An electrical bicycle shop
Various bike shops report selling up to 20 electric bikes and 30 standard bicycles every day since the start of September, in complete contrast to last month when they were averaging three electric bikes and five standards a day.

Explaining the sudden keen interest, shop owners say that many parents are buying bicycles for safety and legal reasons after their underage children were caught riding motorbikes in the 100-150cc range.

They add that secondhand Yamaha electric bikes from Japan and Bere from Korea are no longer popular.

These days the biggest mover is Asama, a brand created by the Fashion Company and the bicycle manufacturer Martin 107.

Because of the pickup in sales, bicycle prices have gone up by 10-20 percent. An electric bike now costs from VND3.5 million to VND5.1 million while a standard street bike or a mountain bike is priced anywhere from VND800,000 to VND6.5 million.