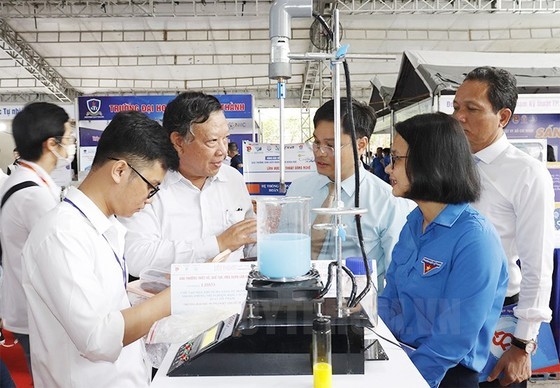 Visitors are looking at displays at the 13th Creative Youth Festival 2022

Being the future and the core for the development and defense of Vietnam, young people, in particular students in HCMC, have tried their best in all fields with their own enthusiasm and innovation.
During the recent 13th Creative Youth Festival, held in HCMC, many visitors have shown their amazement and respect to the drone model developed by Phan Van Quan from HCMC University of Technology and Education. This 1-kilo drone is able to fly at the height from 2-4 meters for more than 15 minutes. Remarkably, the model can operate on its own according to pre-programmed coordinates without any need for control, which is extremely practical in real life.
In the Festival, students from other universities displayed their technological products like an IoT conveyor belt, an IoT system to monitor the environment in the marine products industry, a project to 'Study the Potentials and Applications of Orange Juice Waste' which aims to extract oil from orange peel to make hand wash, scented candle, cosmetics or to recycle orange pulp into fertilizer.
Most projects and research in the Festival were highly appreciated by experts thanks to their practical uses.
Lately in HCMC, there have been various events for the young like the above in order to foster innovation among them for the growth of the city.
In the ceremony held on January 8 to honor HCMC students with comprehensive excellent results last year, President of the HCMC Student Union Tran Thu Ha recalled the proud history of a generation of students in HCMC who had sacrificed themselves to protect the independence of the country.
She then expressed her hope that current students in the city will take that pride with them on their way to help HCMC become more prosperous and developed.
The ceremony praised 156 'high school students with 3 merits', 236 'university students with 5 merits', and 10 'student organization with 5 merits' at city level in 2022.