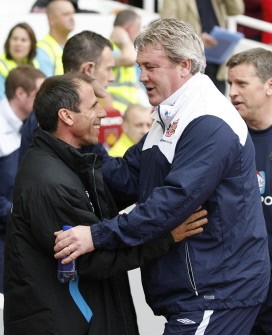 Zola (left). AFP file photo
LONDON, May 10, 2010 (AFP) - West Ham United manager Gianfranco Zola is scheduled to have talks with the club's co-owners this week to discuss his future at Upton Park.
Zola admitted the Hammers' chaotic season, which ended with a 1-1 draw against Manchester City on Sunday, led to him losing some of his passion for the game.
The east London club only just avoided relegation after a turbulent season that saw new co-owner David Sullivan strongly criticise Zola and his players after a series of poor results.
It has been reported that Zola will leave in the close-season but the former Chelsea star would only admit that he is ready to discuss his future.
"We will have a long and interesting chat," Zola said. "The point is speaking to them and finding out what the best thing is to do.
"The club is still in the Premier League at the end of the day and that is what counts. Two months ago many people were asking whether West Ham would stay up."
Zola feels his attitude towards football has changed over the campaign.
"For me personally, football has always been a joy, always a pleasure," Zola said. "I played until I was 39 and never considered it as a job or a difficult thing to do.
"But this year, because of all the pressure around us, it was difficult to take it in the same way. It's been a long, tiring and exhausting season for us.
"Football has always been part of my life, always one of the main things. I need it. I need football in a certain way though.
"One of the people I admire most is (Republic of Ireland coach) Giovanni Trapattoni, he is in his 70s and joyful about the game.
"That is the way I want to be. It was only my second year as a manager and you take in everything. I need to get used to it.
"I enjoyed it last year, very much, this year a little bit less. I know where the faults and mistakes lie. I will be working on them."
During the draw with City, Luis Boa Morte marked his comeback from a serious knee injury by opening the scoring in the 17th minute before Shaun Wright-Phillips equalised for the visitors.
City manager Roberto Mancini has problems of his own after failing to reach the Champions League.
He has been assured by the club's Abu Dhabi-based owners that his future is safe, although he doubts whether they will be able to attract the very top players to Eastlands.
Liverpool's Fernando Torres has been suggested as a possible target but Mancini said: "I don't think so. If we finished in the top four, it would be better and easier to attract them.
"In this situation it is different. There are probably some players who want to play in the Champions League and not in the Europa League.
"We won't playing in the Champions League but we must try to win the other competition and finish in the top four in the Premier League."
Mancini confirmed that Craig Bellamy did not travel to West Ham because of an ankle injury.
The Italian also kept Carlos Tevez on the bench for 73 minutes before he was introduced and given an ovation for keeping West Ham in the top flight during the 2007 campaign.
Bellamy and Tevez have been reported to be unhappy at City but Mancini expects both to be at the club next season.
"I do not need to clear the air with Carlos -- everything is fine with him," Mancini said.
"I am happy. We have improved from last season. We are in the right position -- in the top five. Finishing fifth is better than finishing sixth.
"Things were very difficult when I arrived. It is never easy to join a club in the middle of a season. But we have improved."