MADRID, May 25, 2010 (AFP) - Spain head to the 2010 World Cup finals in South Africa as one of the favourites to lift the trophy on the back of their Euro 2008 success but that tag does not sit well with their players or manager.
In the past Spain have often been the dark horses to win tournaments on the back of a strong qualifying campaign and up until recently had disappointed with their only major trophy being a European championship win back in 1964.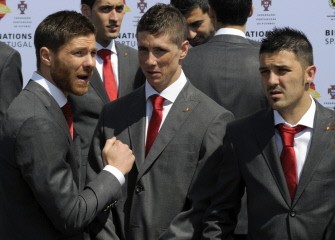 (FromL) Spain's midfielder Xavi Alonso, forward Fernando Torres and forward David Villa chat before a group picture during the inauguration of RFEF museum on May 24, 2010 at the Sports City of Las Rozas, near Madrid. AFP photo
However, the Euro 2008 win in Austria and Switzerland has raised the expectation bar and a perfect 10 wins in World Cup qualifying along with a 35-match unbeaten run - equalling the record of Brazil - has persuaded bookmakers to put Spain down as one of the major contenders.
"We would like not to have this role of favourites but we have it and have to accept it," Liverpool forward Fernando Torres said in sports daily AS.
"In Spain we think we think we are at the centre of the world and always consider ourselves the favourites.
"I live in England at the moment and the favourites are England and Spain. In France they are France and Spain, in Brazil they are Brazil and Spain. We don't like it but I guess it is inevitable."
Spain have one of the most comprehensive squads in world football and boast world class stars all over the pitch such as Torres, Valencia goal machine David Villa, Arsenal starlet Cesc Fabregas and Barcelona's creative midfield pair Andres Iniesta and Xavi Hernandez.
The confidence Spain seem to have taken from the Euro success is notable but no-one knows whether the pressure of being favourites will weigh heavy on their shoulders.
Spain have never won the World Cup - with a fourth place finish their best in 1950 - but this is seen as their big chance to lift football's ultimate prize and the nation expects.
"Everybody in Spain thinks that anything except winning the World Cup is a failure," admitted national coach Vicente del Bosque. "I think that's nonsense and an extremism but, in the times we live in, it seems that extremism sells.
"And even though we don't agree, we can hardly say it doesn't make sense that we're singled out, given we're European champions and have won so many games."
Spain have been top of the world rankings for the first time in their history and have been handed a kind group with Switzerland, Honduras and Chile but the last 16 knockout stage could see them come up against Ivory Coast, Portugal or five-time champions Brazil.
"On paper we're favourites to go through, and I think that we have to try and finish top of the group," said captain Iker Casillas.
"The draw for the knockout rounds is tough, but if you want to reach the World Cup final then you have to go out and beat the best."
On paper Spain certainly look one of the strongest sides in the tournament, have a proven manager in del Bosque and real self-belief from the Euro 2008 triumph.
Spain were fancied to do well in the European championships but played without much pressure, however, at the 2010 World Cup finals they begin as firm favourites and hope to show they can handle it.