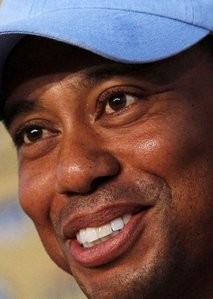 AFP file - Tiger Woods
NEWPORT, Wales (AFP) – Tiger Woods said he was ready to help lead the United States to Ryder Cup glory here Tuesday as anticipation mounted ahead of the 38th edition of the biennial golfing showdown.
The world number one, who was given a wildcard on to the American team after a hellish year of personal torment and poor form, said he believed he was on the road to rediscovering his best form as this week's contest loomed.
The 34-year-old superstar cut a relaxed figure before and during a morning practice round, receiving a rousing reception from a large gallery at Celtic Manor before ripping an immaculate drive off the first tee.
Afterwards, Woods told a press conference he was relishing the opportunity to resume combat with Europe again after a four-year absence. Injury ruled him out of the American victory at Valhalla in 2008.
"It would be great to get a win and I'm looking forward to getting out there and contributing and hopefully getting some points," Woods said.
"It's just so neat to be a part of a team and quite frankly, we don't get to do it very often."
Woods said he had spent the build-up fine-tuning his game under the tutelage of coach Sean Foley.
Asked if he felt he was getting back on track after hitting the worst round of his career at the Bridgestone Invitational in August, where he finished at 18-over-par, he replied: "Absolutely."
Woods, however, batted away questions alluding to the turmoil in his private life which culminated in the collapse of his marriage to Swedish former model Elin Nordegren, a popular figure on the professional circuit.
Asked if he had detected any frostiness from team-mates's wives and girlfriends who have made the trip to Wales, Woods replied: "No, we are here as a team. We're here to win the Ryder Cup."
Woods had earlier teed off in a group including Hunter Mahan, Zach Johnson and Steve Stricker, the latter of whom he is expected to partner in Friday's opening fourballs and foursomes at the demanding 7,378-yar par-71 Twenty Ten layout.
"They are both great players," Pavin said of Woods and Stricker. "Tiger has been No.1 in the world for a long time, and Steve was playing great last year at the time. It's a pretty healthy combination."
Pavin said he expected the Americans would be able to cope with the traditionally partisan galleries once battle commences on Friday.
"The rookies will be prepared because we've talked about it," Pavin said. "But I don't see a situation happening out there that the people will applaud for bad shots or missed putts."
"There might be a comment here and there, but it's few and far between, and I think the fans out there are very respectful of both sides."
Europe captain Colin Montgomerie meanwhile was left purring with pleasure after he watched controversial Irish wildcard pick Padraig Harrington reel off a string of eagles and birdies in a practice round.
Montgomerie's decision to choose Harrington ahead of higher ranked world number eight Paul Casey has come under fire, but the veteran Scotsman insisted Tuesday the criticism was unjustified.
"I know what he can do and that's why I picked him," Montgomerie said. "I've never seen anybody play like he did today.
"He's playing the best golf of my team out there, and I feel the criticism early on before The Ryder Cup is very unjustified.
"He's a world class player. He's won three major championships, and the stature of the guy is second to none within our team."
Montgomerie later revealed he had backtracked on his ban of European players using Twitter during Ryder Cup week, saying team members could use the micro-blogging site provided they did not reveal details from team meetings.
"Whatever is said within that team room stays within that team room," Montgomerie said, clearly exasperated to be quizzed about an issue which had been dubbed "Twittergate".
"I thought I was the captain of a golf team, not the captain of a tweeting organisation," he muttered.