HA NOI (VNS) — The National Women's Football Championships will be organised next month with the best athletes being selected for the national team.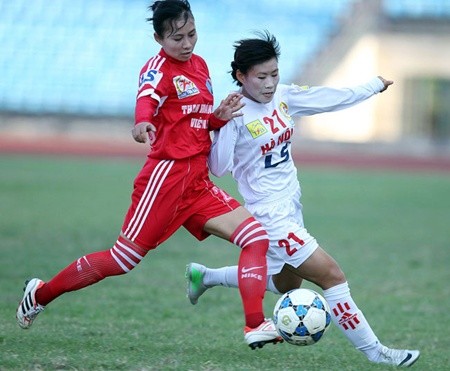 The National Women's Football Championships will be organised next month. — VNA/VNS Photo Quoc Khanh
The tournament, in which six teams will participate, will be held in two legs. The first one will be held from February 20 to March 7 at the HCM City's Thong Nhat Stadium.The second will be held in Nha Trang Stadium in Khanh Hoa Province from July 18 to August 2.
In the opening match, defending champions Ha Noi 1 will play Ha Noi 2.
The other matches will be host HCM City versus Thai Nguyen and Viet Nam Coal and Minerals versus Phong Phu Ha Nam.
According to coach Nguyen Thi Thanh, former national team midfielder, the fight for the championship title will be between Ha Noi 1 and the first runner-up HCM City. Thai Nguyen are expected to be in top three.
After the first stage, the national coaches will summon the best players to the national squad. They will take part in an intensive training course in China and South Korea in preparation for the Asian Women's Football Championships which will be held in the city in May.
At a press conference on Monday, Thai Son Bac, an electric equipment trading company, signed a contract to be the executive sponsor for the annual tournament. It is the third year in a row that the company is sponsoring the event.
"We are successful in our business and want to share it with the community. We choose to support women's football because they have received little recognition despite their many achievements in international and regional competitions," said Bui Dinh Te, Thai Son Bac director.
"We hope that our sponsorship will play a role in developing the women's game as well as in attracting more attention of the community," he said.
The winners will receive VND200 million (US$9,500). The two runners-up will take home VND150 million ($7,100) and VND100 million ($4,700), respectively.