LONDON, April 15, 2010 (AFP) - Arsene Wenger conceded Arsenal's Premier League title dreams had been shattered by their 2-1 defeat to north London rivals Tottenham.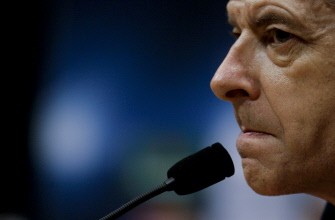 Arsene Wenger (AFP photo)
Wednesday's loss at White Hart Lane leaves Wenger's side six points adrift of leaders Chelsea with just four games remaining and while the Gunners manager insists his team will not give up the fight, he accepts that realistically their chance has gone.
Having clawed their way back into contention on several occasions during the season, Wenger believes his young side's lack of maturity ultimately cost them dearly against the top teams.
"We lost a game we couldn't afford to lose in the title race and that shows we are not mature enough," he said.
"If you want to win the title this is the kind of game you can't lose.
"There is too much to do to win the title. We are very unlikely to win it, but we will continue to fight; you never know. Even a point would not have been good enough."
Goals from teenage winger Danny Rose, whose stunning first half volley marked his Premier League debut in style, and Gareth Bale secured Tottenham's victory, while Nicklas Bendtner's 85th minute strike came too late to spark an Arsenal comeback.
Wenger could take heart from the impressive performance of Holland forward Robin van Persie, who returned as a second half substitute after a five month lay off with ankle ligament trouble.
But seeing his side's title hopes killed off by their first league defeat to Tottenham since 1999 was hard for Wenger to take.
"Van Persie has not kicked a ball in five months in a team and you could see straight away that he gives us something different and special," he said.
"Our bad luck is that in the final sprint we have many good players out and it is too much.
"In the first half we were 1-0 down and a bit unlucky because we never felt under threat. We had a lot of possession we could not turn into dangerous situations.
"Until Van Persie came on and transformed our game in the final third, today we had a lot of possession but were relatively inefficient because our passing was not quick enough."
Wenger's mood was not helped by seeing Thomas Vermaelen limp off with a calf strain and he admitted the Belgium defender will now be out for two to three weeks.
Tottenham manager Harry Redknapp was thrilled with his side's performance, which went some way to erasing the painful memories of the shock FA Cup semi-final defeat to Portsmouth on Sunday.
This win moves Spurs to within one point of fourth placed Manchester City and Redknapp is convinced his team can still claim a place in next season's Champions League.
"It's about 11 years since we beat them in the league, so it was a great result on the back off a bad bounce that knocked us for six," Redknapp said.
"But we showed the great character and the lads have been fantastic all year. To play like that after Wembley was fantastic.
"We drew with Arsenal twice last year but I said to the players if we win we will be in with a chance of fourth spot.
"Manchester City have got a tough run-in. And Aston Villa have it all to do to catch us. We are in good shape with Liverpool. We could finish above them which no-one would have predicted at the start of the year.
"We are bang in there. We have still got a lot to look forward to. We are still on track and we still have a good chance."