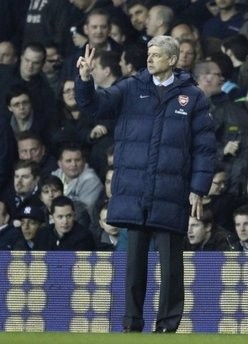 Arsene Wenger (AFP file)
LONDON, May 10, 2010 (AFP) - Arsene Wenger is relieved that Arsenal do not have to contest the Champions League qualifiers at the start of next season, when many of their players will be recovering from the World Cup.
The Gunners boss declared himself delighted that his team would once again be in the Champions League group stage but argued that a combination of injuries and errors in defence had cost them the opportunity to challenge Chelsea for the title.
"I'm very happy that after a World Cup we don't have to play a qualifier because it's a very sensitive game -- and they are getting harder ever year," he said.
Arsenal finished third in the title race, ensuring a spot in the group phase of Europe's premier club competition.
But he was disappointed that the Gunners were not able to push Manchester United and Chelsea closer in the title race.
"If you look a long way back we have gone beyond expectation this season but of course we are still frustrated because one month ago we were still in touch with the championship and didn't win it," he said.
"We had a season with a good attitude and strong character, the team has improved a lot on that front, but overall we conceded too many goals to win the championship.
"We did not have the players available in the last six weeks to fight for the championship.
"When you go into the final sprint, you need your squad available. We had too many injuries."
Wenger confirmed he expected to complete the free transfer signing of Morocco striker Marouane Chamakh from French club Bordeaux within days but said he is not about to put pen to paper on a new contract himself just yet.
"At the moment I have not extended," he said. "I am very happy with my club and always respect a contract but when I will extend, I don't know yet."
Meanwhile, Fulham manager Roy Hodgson demanded UEFA must postpone Wednesday's Europa League final if his team is unable to fly to Germany due to the volcanic ash cloud.
The west London side, who lost 4-0 at Arsenal in their final English Premier League fixture on Sunday, face Atletico Madrid in Hamburg.
Hodgson's side played Hamburg in the semi-finals last month when ash from an erupting Icelandic volcano closed airports across Europe, forcing them to make an arduous journey by road and rail.
Now more ash is threatening to do the same and Hodgson wants a postponement if they cannot make their scheduled flight at 11:00am (1000GMT) on Tuesday.
"If they close the London airports, but not the Spanish airports and keep the German airports open, then who knows? All the trains are booked, so we might be in that situation of having no choice," he said.
"In that situation, especially if Madrid are also in that situation, UEFA need to show some transigence, rather than the usual intransigence, and try to find a solution which helps us both by postponing the game until we both can fly there.
"I do not think it is quite that simple to say 'the game is Wednesday, you have to get there', if Madrid are facing a 20-hour journey and we are facing a 30-hour journey, because I do not think this is what the finals are about -- they are a great occasion.
"You would be playing the game with thousands and thousands of English and Spanish fans not able to go, which I would say is another reason for UEFA to reconsider. It would be harsh, especially on a team like ours who have had to do it once already."
A Fulham side featuring just three players who are expected to start in Hamburg was easily beaten at the Emirates Stadium as Arsenal made sure of finishing third.
Russia forward Andrey Arshavin capitalised on an error by Australia goalkeeper Mark Schwarzer to give them a lead that was doubled by Robin van Persie, the Netherlands striker.
Chris Baird put through his own goal before half-time and substitute Carlos Vela, the Mexico striker, made it 4-0 late on with a cheeky chip.